Stadium owners spend £4m on legal fees in disputes with West Ham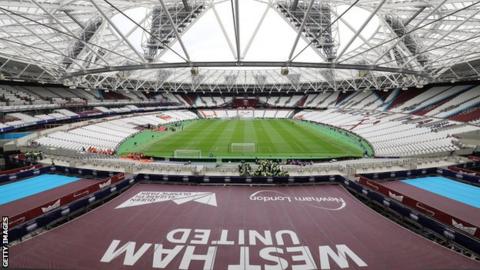 Owners of London Stadium have spent £4m of taxpayers' money in legal fees in the past three years over disputes with tenants West Ham.
The London Legacy Development Corporation (LLDC) has been in dispute with the Hammers over several aspects of its 99-year lease.
Gerry Murphy, LLDC deputy chief executive, confirmed the costs at a London Assembly meeting.
Assembly member Caroline Pidgeon said the situation was "extraordinary".
The LLDC says high operating costs mean it loses £111,000 for every West Ham match, while the Hammers have claimed they contribute a total of £10m a year in revenue, including rent.
The stadium, built for the London Olympics in 2012, has been dogged by controversy over its finances. Converting it into a football ground cost £323m when the original estimate was £190m.
Although West Ham pay an index-linked annual rent of £2.5m as tenants, the venue is still set to lose £140m over the next 10 years.
Murphy, speaking at a meeting of the assembly's budget and performance committee, said: "Over the last three years our legal costs in relation to West Ham, by the end of this year, will be about £4m."
West Ham and the corporation have been in dispute over a number of areas, including the club's bid to increase capacity from 57,000 to 66,000. The issue is due to be heard by the High Court later this year.
They also disagreed over who should pay to make the stadium more supporter friendly, and a mutually agreed legal expert ruled in West Ham's favour.
This meant the LLDC must pay for:
Work to replace the material around the pitch perimeter
The installation of pumps to allow the sale of draught beer at all bars
Hospitality staff who work in the corporate boxes at the stadium
Ensuring all televisions at the ground are allowed to show live sport - West Ham paid for the licence but the London Stadium had adverts on some screens
LLDC chief executive Lyn Garner said the contract - which was drawn up with West Ham before she took over - was "ambiguous in places and unclear".
She told the committee: "We take professional legal advice and, where we think it is right, we have to defend the public purse."
Liberal Democrat Pidgeon said: "It's extraordinary that there are 97 years left [on the contract] and there are constantly issues."
The committee deputy chair, Labour's Len Duvall, added: "It's about time the London Legacy Development Corporation and West Ham put aside their squabbles and sort out their relationship."
West Ham vice-chairman Karren Brady is due to appear before the assembly's budget monitoring sub-committee on 17 October.