Ballon d'Or: Who is the third-best player in the world?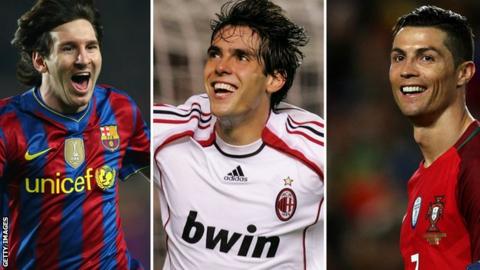 In the end, it wasn't even close.
We asked our BBC Sport pundits - and you - to name the 'third-best' player in the world behind Lionel Messi and Cristiano Ronaldo this week and one man streaked clear of the field.
Ronaldo's former Real Madrid team-mate Luka Modric was named best player at the Best Fifa Football Awards awards in September and is a contender for the Ballon d'Or, while Real's Wales forward Gareth Bale and Tottenham's England striker Harry Kane are among the 30 nominees for this year's prize.
But it was Chelsea and Belgium wizard Eden Hazard who was easily the most popular choice, scooping 31% of the vote.
Here's what our pundits thought...
'Brilliant in August and September, sensational in October'
Former England captain Alan Shearer picks Chelsea and Belgium forward Eden Hazard
"Kylian Mbappe had an incredible World Cup for France in Russia and he would be in my top five in the world, but it is Eden Hazard at the moment, based on the way he has started this season and carried his form on from Russia.
"Hazard was brilliant for Chelsea in August and September, and in the first week of October he was sensational. Any hope Chelsea have of winning the title relies massively on him."
Best in the Premier League right now?
Player
Goals
Completed dribbles
Total shots
Fouls won
Assists
All stats in Premier League only, 2018-19 season
Eden Hazard (Chelsea)
7 (most in PL)
22 (most in PL)
23
21
3
Harry Kane (Tottenham)
5
12
26
16
1
Mohamed Salah (Liverpool)
3
18
32
9
1
Sergio Aguero (Man City)
5
11
38
6
2
'Hazard now, but Mbappe is the next best thing'
Former Chelsea winger Pat Nevin picks Eden Hazard or Paris St-Germain and France forward Kylian Mbappe
"Are we talking about the third-best player right now? Or are we asking who is the pretender to the throne? Because it is a different answer.
"Eden Hazard was not in the running last season. If I had been asked then, I would have said Liverpool's Mohamed Salah was better, and also that Kevin de Bruyne at Manchester City was as good as any of the other contenders as well.
"But if we are talking now, and form this season, then Hazard is very close, if not the third-best player right now.
"Giving someone that mantle because he has had a good start to the season is pushing it a wee bit though.
"If you are asking me to consider who is the player that is going to be the next great, after Messi and Ronaldo - which is a different question - then I would say that is Kylian Mbappe.
"Mbappe is the next big thing - and he will be the next to take up the mantle of being the 'best in the world' - but I would not say he is the third best right now based on what he has done this season.
"At the moment, Hazard is playing as well as anyone else in the world but that is very short term.
"How do you compare Hazard and Mbappe to the brilliance of Raphael Varane at centre-back for Real Madrid and France? Defenders never seem to get the same accolades - the last time a defender won the Ballon d'Or was Fabio Cannavaro in 2006.
"If I was going to consider defensive-minded players then Chelsea's N'Golo Kante would be in the running too - but we cannot really include him right now because he has moved position this season."
'He can run the game'
Former Liverpool defender Mark Lawrenson picks Real Madrid and Croatia midfielder Luka Modric
"Eden Hazard is up there with the very best, and so is Barcelona's Luis Suarez, but I am going for Luka Modric.
"He has just had an unbelievable season for Real Madrid after a number of other unbelievable seasons, and capped it off with an absolutely brilliant World Cup, when he guided Croatia all the way to the final.
"Modric can run the game from midfield against any opposition, but he is not just a playmaker because he can nick the ball off you too.
"Has there been a better midfielder in Europe or anywhere else in the world in the past year? On the back of what we saw in Russia in the summer, I would say no. I would definitely go for him."
Running the show in 2018
Player
Passes
Passing accuracy
Goals + assists
Win %
All stats in league only, in calendar year of 2018
Luka Modric (R Madrid)
1,170
89.6%
8
50
Kevin de Bruyne (Man City)
1,161
83.9%
9
76.5
Eden Hazard (Chelsea)
1,182
84.6%
19
52
Lionel Messi (Barcelona)
1,459
82.2%
35
63
'He has already done so much'
Former England and Tottenham midfielder Jermaine Jenas picks Neymar
"Luka Modric has had a year to remember and I love watching Antoine Griezmann, who just seems to get better and better. On current form, Eden Hazard comes into it too because he has been sensational.
"But I am not going to go on form, I am going to go on ability, what they have done at club and international level and where I think they are going to go.
"I am going to go with Neymar. At Paris St-Germain he is probably playing within himself because I think Ligue 1 is just so easy for him, but at Barcelona he was exceptional, as part of 'MSN' with Lionel Messi and Luis Suarez.
"He is only 26 but already has 30 Champions League goals, one behind Rivaldo who is Brazil's record goalscorer in the competition, and he has already done so much at international level too.
"I know Neymar did not have a great World Cup, but that is not the be all and end all for the way I decided this.
"A great World Cup can take a player's reputation to the next level - but you could argue that we are still waiting for Lionel Messi to have that kind of spectacular tournament himself.
"He is a special player, and he will pick up the Ballon d'Or at some point."
Too good for France?
Goals
Assists
Win %
Minutes per goal or assist
All competitions for PSG in 2018
Neymar
22
8
90.5
59.6
'He has made a real difference'
Former Celtic forward Chris Sutton picks Liverpool and Netherlands defender Virgil van Dijk
"It may not be fashionable to mention a defender when you have a conversation like this, but when you look at the difference Virgil van Dijk has made to Liverpool then you can see just how good he is.
"There is not an attribute you need as a defender that he does not have - he is quick, strong, consistent and he does not seem to lose his concentration.
"He also has tremendous distribution when he is on the ball, and he reads the game so well. He has got the lot.
"There will be a clamour for Eden Hazard and other attacking players - and I understand that - but Van Dijk has shown the difference a brilliant defender can make to any side."
The difference maker?
Liverpool defender
Completed passes
Interceptions
Headed clearances
Duels won
Blocks
All stats in Premier League only, 2018-19 season
Virgil van Dijk
521
12
21
40
6
Joe Gomez
449
11
9
39
3
Joel Matip
99
2
1
10
1
'Consistently brilliant for a number of seasons'
Former Netherlands captain Ruud Gullit picks Paris St-Germain and Brazil forward Neymar
"This is a difficult one because a lot of the contenders are very close. Kevin de Bruyne was excellent for Manchester City last season, but one year is too short a timescale to judge a player - and consistency is what I am looking for.
"Eden Hazard has been at this level for a few seasons now, so he is up there - but Neymar has been consistently brilliant for a number of seasons now, scoring lots of goals.
"Neymar did not have a good World Cup but he was injured and tried to play through it, which is not easy. Now he is back to his best with Paris St-Germain, and you cannot forget the brilliant things he did for Barcelona either."
Did you know? Neymar has missed as many matches for PSG in 2018 as he has played (21). The club have won 19 of the 21 he has played, but only 14 of those he has missed.