Champions League: VAR to be introduced in 2019-20 season
Last updated on .From the section European Football139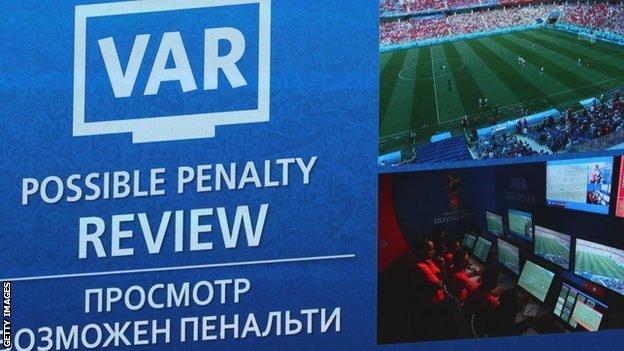 Video assistant referees will be used in the Champions League from the 2019-20 season, Uefa has announced.
VAR will also be used in the 2019 Super Cup and at Euro 2020, as well as in the Europa League from 2020-21 and the 2021 Nations League finals.
The system - used at the 2018 World Cup in Russia - allows referees to review footage of key decisions.
President Aleksander Ceferin said Uefa was "confident" it would have time "to put in place a robust system".
He added it would also provide sufficient time to train match officials to ensure an "efficient and successful implementation of VAR" in "the world's flagship club competition".
VAR was under intense scrutiny at the World Cup, where its use was allowed to clear up incidents around the awarding of goals, penalties, red cards and in cases of mistaken identity.
Australia's A-League was the first top-flight league to use the system in 2017, with Major League Soccer in America soon following.
England's Carabao Cup is using VAR in all fixtures held at Premier League grounds this season.
Analysis
BBC sports news correspondent Richard Conway
This is going to be part of a general falling in line from the major confederations and the big leagues over the next 12 months.
I think Uefa were waiting to see how VAR fared at the World Cup in Russia. It is not without its critics but I think, on the whole, people thought it worked.
There is a lot of money at stake and I think the clubs, critically, are in favour of it. They want to see more fairness and more justice in terms of those big decisions, given what is at stake for them.
The interesting thing is that Fifa has a number of protocols in place that it has been refining for about two and a half years.
Anyone who wants to implement VAR has to stick pretty rigidly to the rules that have been set by Fifa, so if the Premier League falls in line with this - I think the expectation is that they will announce before the end of this season that they are bringing it in - they have to stick to what has been agreed.