Daniel Cousin confirmed as sole Gabon coach after Aubameyang announcement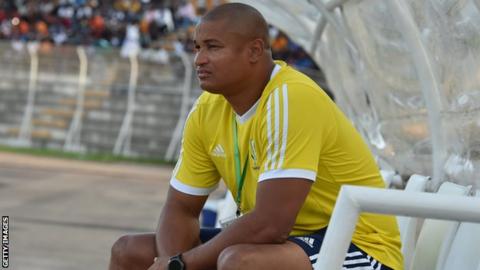 The Gabon Football Federation has named former captain Daniel Cousin as the new sole coach of the national team.
It had announced last week that Cousin would share the role with Pierre-Francois Aubameyang.
But Aubameyang's son, Arsenal star Pierre-Emerick Aubameyang, said his father, who was ill, had not agreed to accept the job.
Cousin, 41, had spells with Hull City in England and Rangers in Scotland as well as playing for French side Lens.
"He has accepted the post and will reveal his staff in the near future," the Gabon Football Federation (Fegafoot) told BBC Sport.
Following Friday's angry denunciation of the original announcement by Pierre-Emerick Aubameyang on social media Fegafoot was forced to admit that it had not reached a final agreement with his father.
Cousin, who played 56 times for Gabon and had been general manager of the Panthers since 2014, said: "As a former captain, being able to train this team is seeing a dream come true."
Gabon's previous coach, Spaniard Jose Antonio Camacho, was told earlier in September that his contract would not be renewed after Gabon lost 1-0 to Zambia in a friendly.
In less than two years in the job, he won only two matches, losing seven and drawing eight.
The Panthers are due to play South Sudan twice next month in qualifying for the 2019 Africa Cup of Nations.