Stephen Darby 'worried about everyone else' after MND diagnosis - Stephen Warnock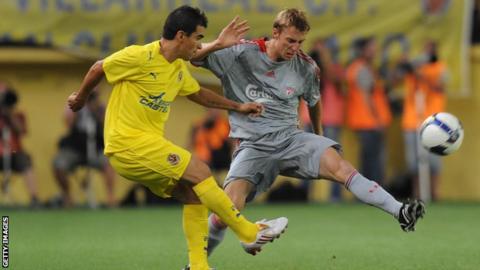 Ex-Liverpool defender Stephen Warnock says he cannot believe how "positive" his friend and former Reds team-mate Stephen Darby is after he was diagnosed with motor neurone disease.
Bolton full-back Darby announced his retirement from football at the age of 29 on Tuesday.
Warnock said he had a "tough" phone call with Darby, who has been "touched" by the support he has received.
"He is just worried about everyone else," Warnock told BBC Sport.
"He has been very touched by all the comments and all the feedback he has had from people around the world.
"He deserves every message he gets because of the type of person he is. He is such a kind and generous person."
MND is a degenerative condition that affects how nerves in the brain and spinal cord function. There is currently no cure.
Darby, who married Manchester City Women and England captain Steph Houghton this summer, last played in December.
After leaving Liverpool, where he came through the academy, the right-back made more than 200 appearances for Bradford City, before joining Bolton in July 2017.
Speaking on BBC Radio 5 live's The Friday Football Social, Warnock said he sat in his car "for half an hour crying" after learning of Darby's diagnosis.
"I could not believe what I had just read. It hits you hard, it's absolutely heartbreaking," he said.
He told BBC Sport: "I was going to text him, but I thought you don't text someone over this. I knew I had to pick the phone up.
"When it went to voicemail the first time, I was actually pleased because I didn't know what I was going to say. We spoke the next day, and it was a tough phone call."