England futsal: Croatia games a big test, says coach Skubala
Last updated on .From the section Football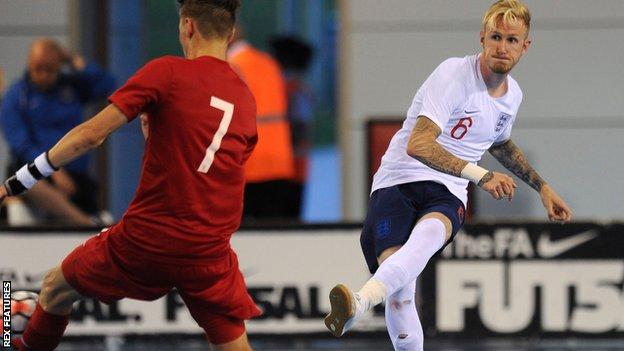 England futsal head coach Michael Skubala says their two friendlies against Croatia on Sunday and Monday will be "a big test" for his players.
Croatia are ranked 12th in the world with England 53rd, and both games will be live streamed by the BBC.
"Croatia are full-time futsal players, our team and clubs are very much semi-pro, but it's good to play a high-ranking team," said Skubala.
Futsal is played on a hard court with a smaller and harder ball than football.
"We've moved up the rankings in the last few years," Skubala added. "I'm always conscious that the players need to see the top level to appreciate what it's like."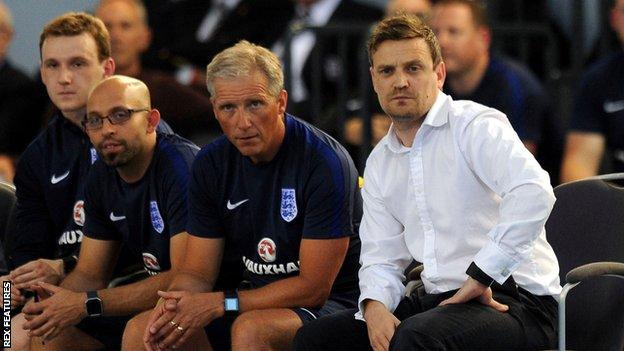 England were beaten by narrow margins in both internationals against Poland in June, losing 5-4 and 3-1 to a team currently ranked 24th in the world.
"We got close there but didn't quite get over the line so now we've gone a step further with a bigger test," said Skubala, 36, who played for former non-league side Hinckley United.
The England coach wants his national programme to keep up with the rapid progression of futsal worldwide, where it is used to develop player skills at a young age.
"The South Americans and the Spanish grow up playing the game in their school systems and clubs," said Skubala.
Futsal's World Top 10

1. Brazil

6. Iran

2. Spain

7. Italy

3. Portugal

8. Kazakhstan

4. Russia

9. Ukraine

5. Argentina

10. Paraguay
"There's a lot of physical elements to futsal that assist people going to the 11-a-side game - but now we're seeing the tactical transfer too.
"I see a lot of futsal in the way Pep Guardiola sets up his teams. He has learned from futsal in Barcelona - they are the top futsal team in the world.
"The top six [football] nations in the world are in the top 10 futsal nations and they all have pro futsal leagues. Spain, Brazil, Argentina and Italy all have futsal leagues where the players are full-time athletes."
England squad: Mark Croft (Guardia Perticara), Dylan Malpas (Birmingham), Jonny Sim (Helvecia), William Wallace (Toulouse), Stuart Cook (Helvecia), Raoni Medina (Helvecia), Richard Ward (Helvecia), James Webb (Reading), Will Rooke (Loughborough), Calvin Dickson (Helvecia), Russell Goldstein (Helvecia), Robbie Bettson (York City), Liam Palfreeman (Falconara), Doug Reed (Dinamo Zagreb), Curtis Mason (Loughborough), Dean Withers (Birmingham).