Dejan Lovren: Liverpool centre-back denies perjury allegations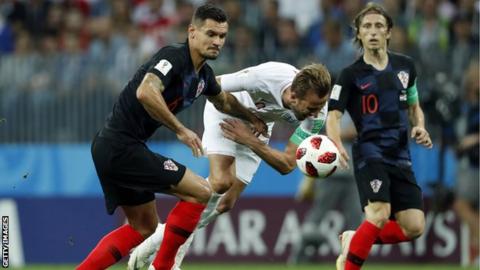 Liverpool defender Dejan Lovren says he "did not commit any criminal offence" after being charged with perjury in Croatia over evidence given in a trial.
Zdravko Mamic, considered the most powerful figure in football in Croatia, was jailed in June for corruption.
Real Madrid midfielder Luka Modric is suspected of having made false statements during the trial and Lovren has been charged with the same offence.
"With indignation I dismiss all accusations," Lovren said on Instagram.
Lovren, a key member of Croatia's run to the World Cup final, said he learned about the charge after a training session.
"To anyone who wants to ruin my reputation and the reputation of my family, I say it will not succeed," he added.
"I did not commit any criminal offence. I am proud of my life, every step of my life, everything that my family and I have created."
Mamic was found guilty of siphoning off millions of euros in transfer fees when he was an executive at Dinamo Zagreb.
Croatia captain Modric, charged with perjury in March, is accused of making a false statement in June 2017 over details of his transfer from Dinamo to Tottenham in 2008.
Lovren left Dinamo for Lyon in 2010, before joining Southampton in 2013 and Liverpool a year later.
A conviction for perjury carries a maximum jail term of five years.