Man City were 'not good enough' after losing to Lyon, says Mikel Arteta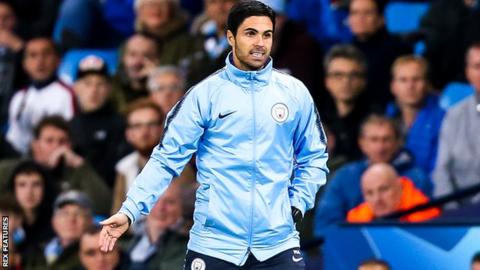 Manchester City's Champions League defeat against Lyon had nothing to do with the crowd at the Etihad Stadium, according to coach Mikel Arteta.
City lost 2-1 at home to Lyon in front of a crowd of 40,111 - more than 10,000 down on their Premier League average.
Arteta took over duties in the dugout in the absence of boss Pep Guardiola, who was serving a touchline ban.
Asked if the atmosphere contributed to City's downfall, Arteta said: "I wouldn't use that as an excuse."
Last season, City averaged 48,050 at the Etihad in the Champions League as they reached the quarter-finals.
Arteta, City's assistant manager, added: "We have had this type of crowd in the Champions League before and we were able to win the game.
"If you ask me what is the ideal scenario, it is to have a full stadium every time, people supporting the team and being behind the team like crazy.
"We know in this competition that some weeks it doesn't happen.
"But I don't think that's an excuse for the result."
Arteta would not be drawn on whether Guardiola's absence from the touchline had any influence on an unusually disappointing performance by the champions of England.
"The reality is Pep was not here and we lost the game," said the Spaniard.
"If Pep had been on the touchline I couldn't tell you whether we would have won 5-0 or lost 3-0.
"We started slow and we were not consistent in the way we were trying to play. We lost many duels and at this level you pay the price for that.
"At this level it is not good enough."