Liverpool 3-2 PSG: 'Reds carry on where they left off last season in Champions League'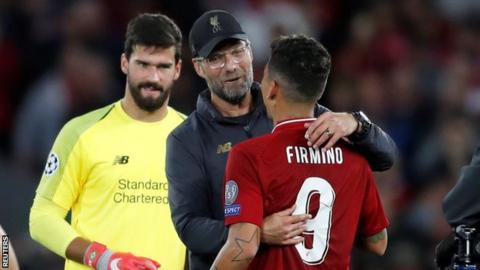 Liverpool felt they were driven by destiny when they reached last season's Champions League final - so it was a bitter night in Kiev in May as they ended up well beaten by Real Madrid.
In the aftermath, however, once the immediate pain of disappointment had eased, manager Jurgen Klopp and his players were able to reflect on Liverpool's unlikely achievement as the start of the journey back to a sixth win in this competition, not the conclusion.
It meant this opening Group C meeting with Paris St-Germain, a side assembled at vast expense and a club with designs fixed firmly on the Champions League, was heavy with significance for Liverpool as they looked to hammer home the message they sent around Europe last season.
And on a typically thunderous Champions League night at Anfield, Liverpool simply carried on where they left off here last year, emphasising once more that they will be a force to be reckoned with this season - and serious contenders should they reach the knockout stage.
The first 45 minutes was Liverpool's template Champions League performance. No looking back to falling short last season but looking forward to the challenge of making the final step. High-tempo, fierce intensity, toe-to-toe and oozing belief that anyone can be beaten at Anfield.
Liverpool were presented with star-studded opponents in PSG, challenged to subdue an attack containing France's World Cup-winning superstar Kylian Mbappe, Brazil's icon Neymar and the considerable talents of Edinson Cavani and Angel di Maria.
The stakes may not have been as high as the sudden death of the knockout stage but Liverpool were still faced with a test of their talent, character and nerve - and once again emerged with success.
Liverpool's opening salvo was reminiscent of the manner in which Manchester City and Roma were blown away at Anfield in the quarter-final and semi-final last season, relentless pressure finally telling with the reward coming in goals from Daniel Sturridge and James Milner's penalty.
And then came the test of character.
PSG, unambitious and unimpressive, worked their way back to equality through Thomas Meunier's goal before half-time and Mbappe's late swoop in front of the Kop.
Liverpool's inner belief and desire was tested. The answer came with a late siege on PSG's goal which brought Roberto Firmino's injury-time winner, drilled across Alphonse Areola into the bottom corner.
Anfield rocked to the sound of familiar Champions League celebrations, another illustrious opponent beaten, another reminder that this Liverpool side contains an ever-present threat, even when it may seem the danger has been dampened.
Liverpool's win, and the manner in which it was achieved, will have bolstered Klopp's belief that this team is maturing so rapidly that he can now fashion a threat domestically in the Premier League alongside another Champions League challenge.
PSG still look a collection of parts rather than a whole, talented but disjointed, with enough to win with ease at home but still with serious questions about whether they can come close to the Champions League.
Liverpool have no such problems. They are a team with unity of purpose and spirit pushed forward by a fanbase who, based on history, believe anything is possible in the Champions League.
The attacking trident of Firmino, Sadio Mane and Mohamed Salah, who is straining to find the glittering form of last season and currently struggling, may take star billing if it is measured in headlines but what some outside Anfield may regard as the undercard were immense again.
Milner, at 32, is enjoying a glorious Indian summer to his superb career. The man who was utilised as an auxiliary left-back under Klopp for a couple of seasons is now an indispensable component of Liverpool's midfield.
Klopp has rotated captain Jordan Henderson and Naby Keita - while £45m summer signing from Monaco Fabinho is not even in contention for a regular place yet - but Milner is an automatic choice. The same can also be said for Georginio Wijnaldum, enjoying the best spell of his Liverpool career and another stellar performer against PSG, winning a penalty and contributing tirelessly throughout.
The celebrations at the final whistle were also reminiscent of last season, Klopp racing off down the touchline as Firmino's winner hit the back of the net - then thumping his chest at supporters in the Main Stand after the last few seconds were safely seen out.
It is only the start of Liverpool's campaign and the list of Champions League contenders contains the usual suspects, with Manchester City surely a huge threat this season, but this was an opening shot that will have been noted around Europe.
Liverpool have set the highest standard as a starting point.