Man City players best in world, says assistant coach Mikel Arteta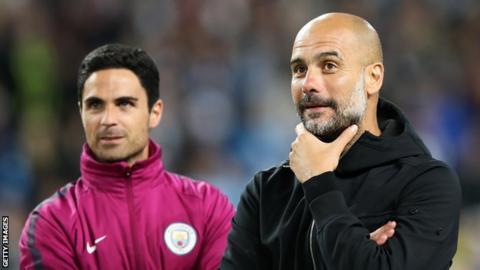 Manchester City are the "best in the world", according to the Premier League champions' assistant boss Mikel Arteta.
Arteta is standing in for fellow Spaniard Pep Guardiola, who is banned from the touchline for City's Champions League Group F opener against Lyon.
Guardiola called on his right-hand man to deliver Tuesday's news conference alongside centre-back Aymeric Laporte.
"For me, we have the best players in the world and I look at our players as if they are the best," said Arteta.
"I wouldn't change my players for any others. They are absolutely fantastic - the hunger in this group is incredible," the former Everton and Arsenal midfielder added.
"People talk about money to spend but people have to look inside this club, what we have created - it's phenomenal."
Manchester City set a number of Premier League records during the 2017-18 season including most points (100), most wins (32), most goals (106) and the fewest games to score 100 goals (35).
Former Barcelona manager Guardiola was banned for his sending-off in last season's quarter-final against Liverpool.
"Obviously he is very disappointed. We all know how much the Champions League means to him," Arteta added.
"But he had a reaction to something in a big game and they made a decision and this is the situation. We respect the decision.
"He wouldn't choose the situation but I am here. I will try to do my best to reduce the impact of not having Pep.
"It is a good challenge, a very nice challenge, but if I had to choose, I would choose Pep on the touchline because he does that job better than anyone else."