Cliftonville would ban fans 'convicted' of damaging Narrow Water poppy wreaths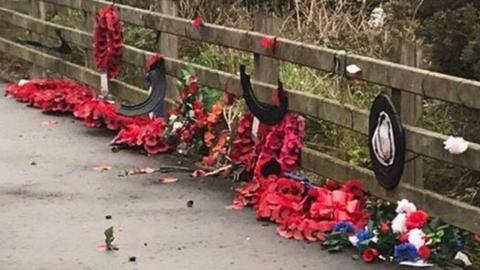 Cliftonville Football Club say they would ban any supporters "convicted" of involvement in damaging poppy wreaths at Narrow Water in County Down.
Police have said Saturday's incident is being treated as a hate crime.
Eighteen soldiers were killed in two IRA bomb attacks at the site near Warrenpoint in August 1979.
"Should confirmation be received of the identity of those convicted then we would have no hesitation in banning them from our stadium," said the club.
It is understood the damage happened on Saturday at about 17:20 BST. The wreaths have since been replaced.
In an earlier statement Cliftonville had said they were "aware of allegations of involvement from persons returning from our fixture in Warrenpoint" and club chairman Gerard Lawlor condemned the incident.
"We live in a sad society where anyone would get a kick out of desecrating a memorial," he said.
"If anyone connected with our club has any information about the incident then they should report it to the PSNI.
Cliftonville FC said it understood those involved were not in an affiliated supporters group or supporters club and added that the club would provide "its full cooperation in the investigation of this matter".
A further statement issued by the club on Monday indicated that the north Belfast club have "had several inquiries since our statement on Saturday in regards to events at Narrow Water".
"Cliftonville have previously banned individuals from Solitude on several occasions. While this is effective in preventing entry to games at our ground, we would call on all Irish League Clubs, the Northern Ireland Football League and the Irish Football Association to help and support us in preventing all banned persons from entering all football grounds," the statement
"We also ask that the existing legislation in regards to Football Banning Orders is more readily applied."