N'Golo Kante: Chelsea star eats curry and watches Match of the Day at fan's house after mosque meeting
Last updated on .From the section Chelsea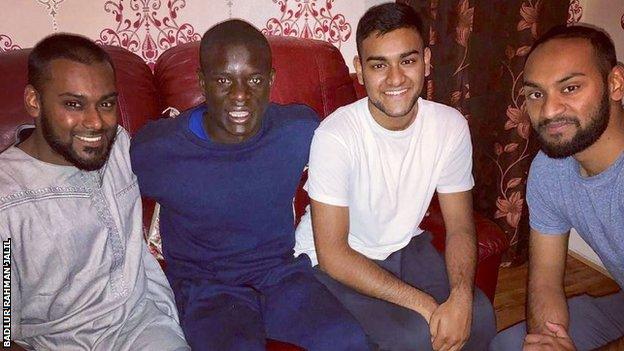 Chicken curry. A few games of Fifa. Match of the Day. It sounds like an evening with your mates - not what you would do with a World Cup winner.
And that is exactly what a group of friends did this weekend after spotting N'Golo Kante at a local mosque.
The Chelsea midfielder, 27, missed his Eurostar train from St Pancras after his side's 4-1 win over Cardiff on Saturday.
He visited a mosque in Kings Cross after his error, where the France international met a fan who decided to pluck up the courage to invite the star round to his house.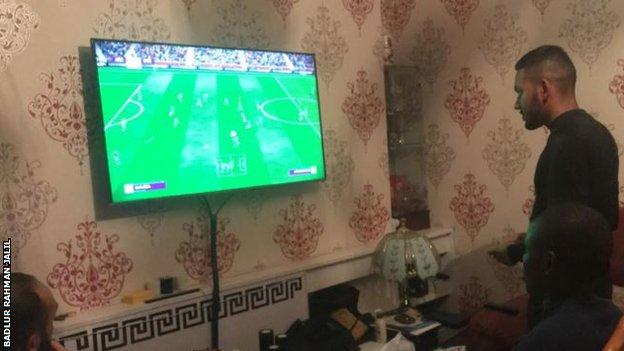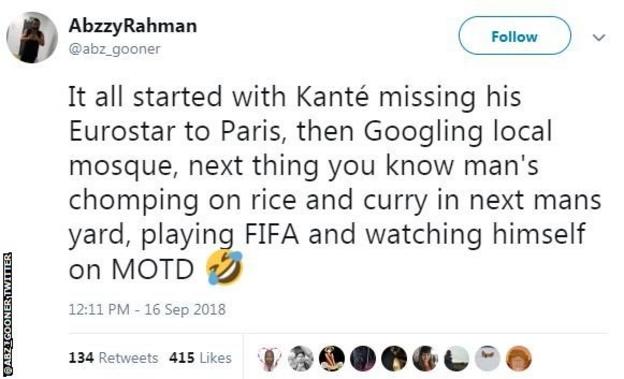 Arsenal fan Badlur Rahman Jalil, 31, seized the opportunity to ask the two-time Premier League winner the cheeky question - to which Kante happily obliged.
"I went to the mosque on Saturday evening to pray and we just prayed together. It's Islamic teaching to invite guests to your house for dinner, so I asked him," Badlur said.
"He came with me and my brother because he was on his own and said he was only going to go home anyway.
"He was on a protein diet so we had a chicken curry. He even had a cup of tea.
"He beat us all at Fifa and then we watched Match of the Day. It was a really nice evening."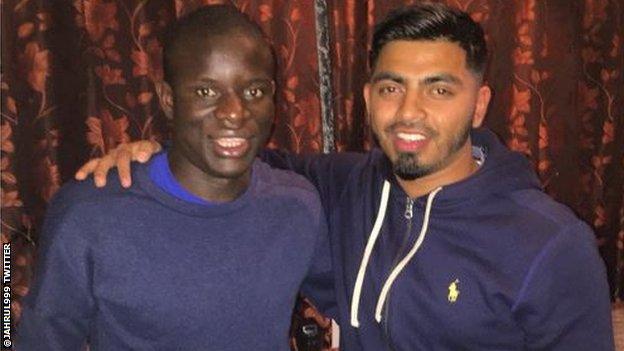 Twitter user @jahrul999 received a text from Badlur telling him to come over - with curry, Fifa and Match of the Day on the evening's agenda.
"My friend's older brother saw him at the mosque and asked him why he was there," the 22-year-old Liverpool fan said.
"Kante told him he had missed his Eurostar to Paris. He was going over there to visit family. My mate invited him to his house and said he would be happy to feed him.
"He turned up a little while later and had a chicken curry and played Fifa. I got a text to go round so I went and we all just sat there watching Match of the Day with him."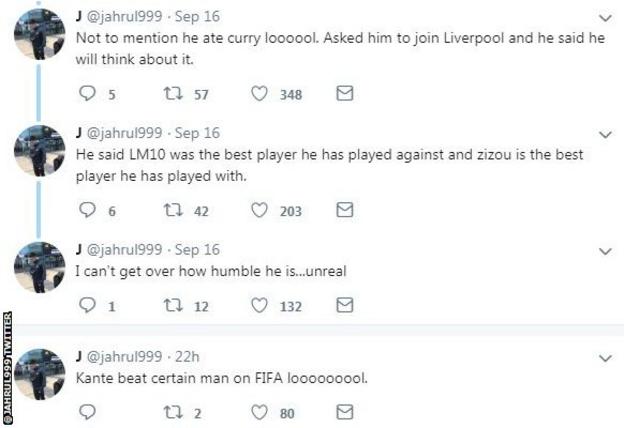 A group of around eight to 10 friends gathered at the house, where they spent around two hours with the Premier League star.
"I'm a Liverpool fan and most of us are Arsenal fans, but Kante is more than just a footballer. As a Muslim, he is a great role model to us and an example of a good human being," @jahrul999 added.
"He grounds you. He is such a humble person. He doesn't think he is on another level to you.
"Footballers must get annoyed with people asking for photos all of the time, but he was more than happy to take individual photos with us all. You could tell it was a genuine smile."
A Chelsea spokesman confirmed the story and added with a smile: "That's typical N'Golo".