Club urged SFA not to help Rangers in 2008, says George Peat
Last updated on .From the section Rangers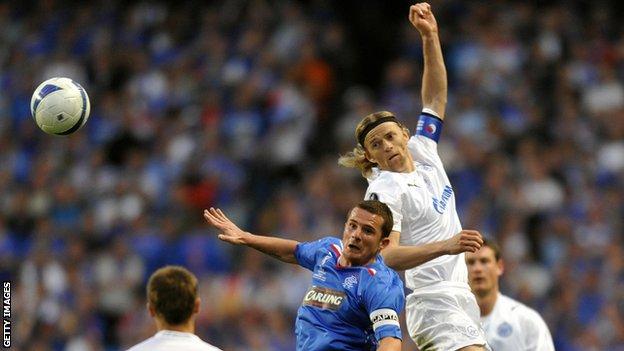 Former Scottish FA president George Peat says a club chairman urged him "not to help Rangers in any way" amid a fixture backlog in 2008.
The Ibrox side were competing on three fronts near the end of season 2007-08, having already won the League Cup.
They lost the Uefa Cup final to Zenit St Petersburg and finished second to Celtic in the Scottish Premier League but won the Scottish Cup.
"The prominent club asked me not to and I refused," Peat told BBC Scotland.
Rangers played five games over 11 days at the end of the 2007-08 season, with the SPL responsible for the league fixture scheduling and the SFA having oversight of the Scottish Cup.
The Ibrox side had two league games in hand and the finale to the SPL campaign was delayed for top-half sides from 18 May to 22 May so all six teams finished on the same day.
After losing to Zenit in Manchester on 14 May, Rangers played rearranged league fixtures against Motherwell (17 May) and St Mirren (19 May) before losing against Aberdeen on 22 May as Celtic beat Dundee United to finish top of the table with a three-point lead.
Rangers then beat Queen of the South in the Scottish Cup final two days later.
When discussing his presidency from 2007-11, Peat was asked about what disappointments he had from his time with the SFA.
And he explained: "There were certain things that disappointed me. One in particular disappointed me.
"I remember when Rangers got to the final in Manchester. I got a phone call from a prominent chairman of a club requesting me not to help Rangers in any way.
"And it so happened that I had already had a meeting with Lex Gold at the SPL because what we were willing to do was to extend the season because of the fixture pile-up that Rangers had and I was most disappointed when I got back to the office to receive this call to ask me not to help them in any way.
"That really stuck in my throat."