Chris Webb: Plymouth Argyle club president to step down after seven years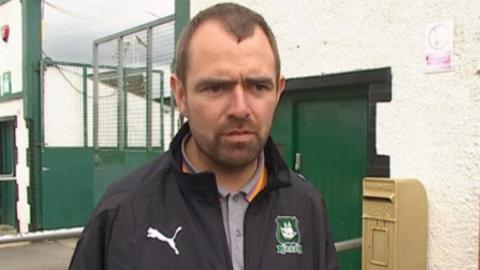 Plymouth Argyle's honorary president Chris Webb is to give up the role.
Lifelong fan Webb was instrumental in bringing outgoing chairman James Brent to the club back in 2011 when the club were in administration in the midst of major financial problems.
Brent is due to step down next month, with US-based director Simon Hallett taking a majority stake in the club.
"With James stepping down it just feels like the baton has been passed from one era to the next," Webb told BBC Sport.
"I feel as though my contribution to the club should stop with James' era."
Since taking up the mainly ambassadorial role, Webb has seen Argyle narrowly avoid relegation from the English Football League in 2012 and 2013 and return to the third tier in 2017.
"The club totally unrecognisable off the pitch, the board have strengthened the staffing and organisation of the club," he added.
"On the pitch successive managerial appointments, and particularly Derek Adams, have elevated us to a different level.
"He's brought about a winning mentality from the bottom to the top of the club and an ethos and an identity that we didn't have before."
Webb will step down on 31 October, the same day as Brent gives up his role as chairman.
"Chris played a critical role in saving Argyle from liquidation and then helping it exit from administration," Brent told the Plymouth Argyle website.
"As President, he continued to commit considerable time to support the club in meeting its goals to become a successful, sustainable and community-orientated football club."