Truro City's fitness not 'anywhere near what we would expect', says new boss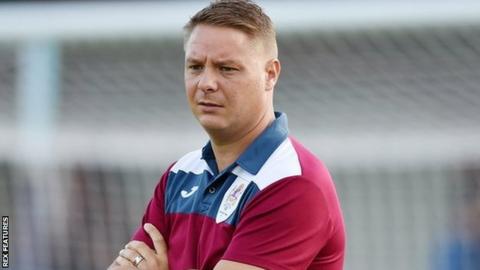 Truro City manager Leigh Robinson says his side's fitness is not good enough after their 2-0 loss at Hampton and Richmond in National League South.
Having won Robinson's first game in charge the previous weekend, City conceded twice in the first half.
And they still await a first win at Plainmoor since moving home last month.
"The fitness and dynamism in this team isn't anywhere near what we would expect for this club and this level," Robinson told BBC Radio Cornwall.
"That's something that we can't sprinkle some magic dust and give the lads straight away, that's going to be something that takes a bit of time.
"The quality between the sides wasn't that different, but Hampton were undoubtedly fitter and sharper than us and that's something we've got to work on."