Eden Hazard: Maurizio Sarri says Belgian can score 40 goals and win Golden Boot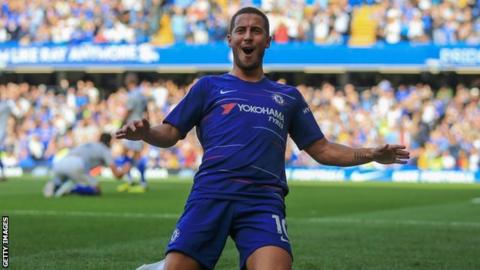 Chelsea forward Eden Hazard can score 40 goals this season and win the Premier League Golden Boot, according to his manager Maurizio Sarri.
Hazard scored a hat-trick against Cardiff on Saturday and has five goals from five games this season, one more than his nearest rivals.
Afterwards Sarri said the Belgian could be the best player in Europe.
"We have spoken and I told him he can score 40 goals," Sarri said. "He has to improve some things, but he can do it."
Hazard joined Chelsea in 2012 and has scored 94 goals for the club but has never hit 20 or more club goals in all competitions in a single campaign.
His best total came in 2014-15 when he scored 19 goals, and he scored 17 times in each of the past two seasons.
Liverpool forward Mohamed Salah won the Golden Boot last season with 32 goals in the league, and scored 44 in all competitions.
Premier League top scorers 2018-19
Eden Hazard (Chelsea)
5
Romelu Lukaku (Manchester United)
4
Sadio Mane (Liverpool)
4
Aleksandar Mitrovic (Fulham)
4
Chelsea are top of the table on goal difference, having won all five of their matches so far.
The west London club are two points clear of defending champions Manchester City but Sarri said both City and second-placed Liverpool are "better" than his side.
"We have to improve step by step," said the Italian, who replaced Antonio Conte in the summer. "My target is to become the best team in England in one year, 18 months. That's the target.
"I think my opinion in this moment, two teams, Liverpool and Manchester City are better than us."