Women's Scottish Cup: Scott Booth 'proud' as Glasgow City thump Renfrew to reach semi-final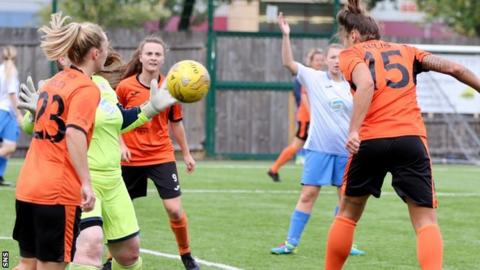 Glasgow City did head coach Scott Booth "proud" as they romped into the Scottish Cup semi-finals with an 11-0 win over Renfrew.
The Scottish champions returned from their midweek Champions League exploits in Cyprus to rack up the goals.
Title rivals and cup holders Hibernian also reached the last four with a similar 11-0 win over Edinburgh University Hutchison Vale.
Celtic lost 3-1 to Spartans, while Motherwell beat St Johnstone 1-0.
City were 2-0 winners over Somatio Barcelona on Wednesday in the first leg of their Champions League tie.
Booth made a number of changes but that did not stop the goals raining in.
"We knew there was a job to be done today," Booth told Glasgow City TV. "Credit to the players for going out and doing it.
"It's been a really busy time for the players. They've had a lot to contend with, a lot of games, the national team as well.
"Generally speaking they've been fantastic. They've stayed motivated, they've managed games well at times when they've had to, but also giving absolutely everything into games when they've had to.
"I'm very pleased and proud of where we are at the moment."