Irish Premiership: More damage to Ballymena United pitch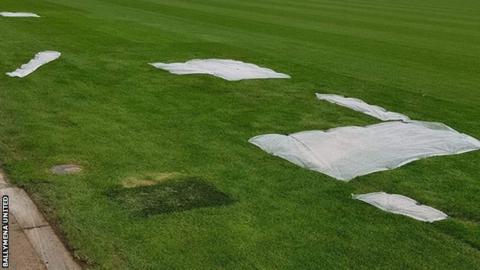 Ballymena United fear fresh damage to their pitch caused by stock car racing will result in a delay to hosting games at the Showgrounds.
The playing surface was damaged twice earlier this year by racing and the club have again called for action from the local council.
"We're due to return to playing in the main arena in three weeks," said United chairman John Taggart.
"I'm not convinced the grass seed sown to repair the damage will have worked."
He added: "I was in the Showgrounds on Saturday and decided to take a look at the main arena - how disappointing to find damage caused to the playing surface after Friday night's racing event.
"Council need to protect the playing surface within the main arena. To allow damage to continue just does not make sense."
The venue is owned by Mid and East Antrim Borough Council, which laid a new pitch in the summer after a major investment.
Ballymena agreed to postpone home games until 6 October so the new surface could bed in.
The first match of the season at the Showgrounds, against Newry City, is now in doubt.