Man City fans aged 102 and 97 mascots against Fulham
Last updated on .From the section Man City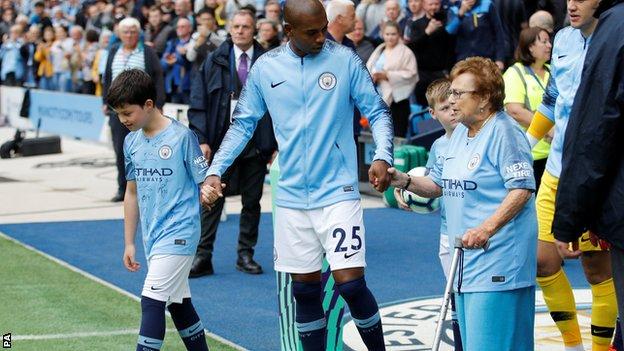 Manchester City might just have set a record for having the oldest mascots in Premier League history on Saturday.
Vera Cohen, 102, led out the teams as City faced Fulham at Etihad Stadium, along with her sister Olga Halon, who is a spritely 97.
Vera has been a regular at matches for more than 85 years and still goes to every home game with Olga, son Danny and son-in-law Roger.
Vera embraced City manager Pep Guardiola in the dugout before kick-off and the pair spoke with him after the game.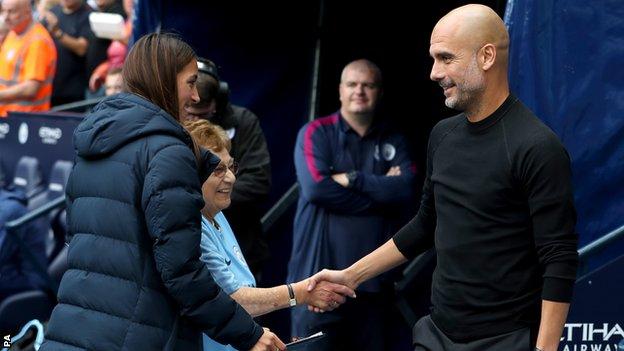 "Pep said hello to me and I said thank you for all you've done for this team," said Vera. "Things used to be very different from how they are today. They didn't have a scoreboard when I first came - a man used to come around with a blackboard with the score on it!
"Pep is amazing. What he's done to this team. There's something about him which brings the best out in the players. I hope he stays forever!"
"Basically, Grandma Vera is a legend," said grandson David Goldsmith. "She's raised over £23,000 for The Christie hospital in Manchester since 2001, through her baking."
The pensioners were joined by Vera's great grandsons Max Goldsmith, 10, and Sammy Goldsmith, 4.
Remarkably, Vera will not be the oldest mascot at a professional English match in recent seasons.
That record appears to belong to Preston fan Bernard Jones, 105, who led his team out against Sheffield Wednesday on the opening weekend of the 2017-18 Championship season.