Champions League: Kick-off times changed - all you need to know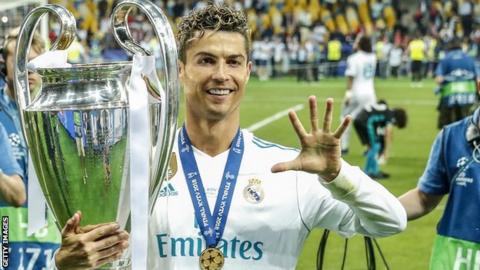 After a summer of World Cup thrills and big money transfers, a significant change to the group stages of the Champions League may have slipped under your radar.
Two games per day will kick-off at 17:55 UK time, and there's also been a change to the later matches with all the others starting at 20:00.
Previously, most group stage fixtures started at 19:45, with some staged in eastern Europe or Russia starting two or three hours earlier.
Tottenham fans will be among the first to have to make an adjustment when their team take on Inter Milan at the San Siro on Tuesday, while the other Group B fixture sees Barcelona host PSV Eindhoven at the same time.
None of the four English sides involved - Manchester City, Manchester United, Liverpool and Spurs - are due to play any of their three home games at 17:55. Of the quartet, only United are scheduled to play all six ties at 20:00.
All the knockout ties will kick-off at 20:00 BST/GMT.
Europa League matches from the group stage until the last 16 will kick off at 17:55 and 20:00. The quarter-finals, semi-finals and final will all kick-off at 20:00.
Why make the change?
TV and online viewers will be able to see more games, without missing out on the other matches that would have been on at the same time, in theory increasing viewing figures and revenue.
Winners
The revised times mean that the audience in Asia won't have to wait quite as long into the middle of the night to see their favourite European sides in action.
Managers, players and travelling fans may also appreciate the earlier start on away trips, which could mean an earlier flight home before the weekend's domestic fixtures.
Losers
Any fans assuming they would be back at home and in front of the TV in time for kick-off following the commute back from work may now struggle to make it in time.
Alternatively, there could be a few people making their excuses and leaving the workplace a bit earlier than normal on the odd Tuesday and Wednesday over the next three months.
Which games are affected?
Two of Spurs' away trips - Inter Milan and PSV Eindhoven - are at the new time, while City's visit to Hoffenheim and Liverpool's match at Red Star Belgrade will also start at 17:55 UK time. All of United's Champions League group stage matches will begin at 20:00.
Games starting at 17:55 BST or GMT
Matchday one
Tuesday, 18 September
Group B: Barcelona v PSV Eindhoven, Inter Milan v Tottenham Hotspur
Wednesday, 19 September
Group E: Ajax v AEK Athens
Group F: Shakhtar Donetsk v Hoffenheim
Matchday two
Tuesday, 2 October
Group F: Hoffenheim v Manchester City
Group H: Juventus v Young Boys
Wednesday, 3 October
Group C: Paris St-Germain v Red Star Belgrade
Group D: Lokomotiv Moscow v Schalke
Matchday three
Tuesday, 23 October
Group E: AEK Athens v Bayern Munich
Group H: Young Boys v Valencia
Wednesday, 24 October
Group A: Club Brugge v Monaco
Group B: PSV Eindhoven v Tottenham Hotspur
Matchday four
Tuesday, 6 November
Group A: Monaco v Club Brugge
Group C: Red Star Belgrade v Liverpool
Wednesday, 7 November
Group G: CSKA Moscow v Roma
Group H: Valencia v Young Boys
Matchday five
Tuesday, 27 November
Group E: AEK Athens v Ajax
Group G: CSKA Moscow v Viktoria Plzen
Wednesday, 28 November
Group A: Atletico Madrid v Monaco
Group D: Lokomotiv Moscow v Galatasaray
Matchday six
Tuesday, 11 December
Group D: Galatasaray v Porto, Schalke v Lokomotiv Moscow
Wednesday, 12 December
Group G: Real Madrid v CSKA Moscow, Viktoria Plzen v Roma