EFL protests: Charlton Athletic & Blackpool supporters demonstrate over ownership issues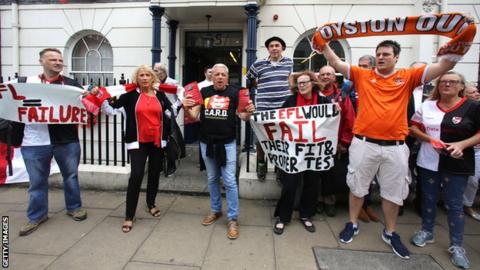 Supporters from Charlton Athletic and Blackpool have staged protests outside offices of the English Football League, claiming its inaction is failing to push through changes in ownership at their respective clubs.
Two Charlton fans met with EFL chief executive Shaun Harvey in London.
Harvey assured them he will bid to meet directly with Addicks owner Roland Duchatelet as soon as possible.
Blackpool fans held a similar demonstration in Preston.
An EFL spokesperson said: "The EFL acknowledges the right of Blackpool and Charlton Athletic fans to stage a protest outside EFL offices on Friday afternoon.
"During this time the EFL met with representatives from both sets of fans, listened to their concerns, and confirmed that in recent weeks there has been direct contact with the ownership of the respective clubs in regard to the relevant matters raised."
Why are fans protesting?
A large section of Blackpool supporters have boycotted matches and held protests against their owners, the Oyston family, for several years over their running of the Lancashire club.
A High Court ruling in November 2017 ordered them to buy out the shares owned by VB Football Assets, former director Valeri Belokon's company, for £31.27m.
In a statement released before their protest in Preston, the Blackpool Supporters Trust said the EFL has refused to take "meaningful action" since that ruling.
In an interview with BBC Radio Lancashire in August, Blackpool chairwoman Natalie Christopher said owner Owen Oyston, father of former chairman Karl, would only sell the club "if he absolutely has to".
He had offered to sell his controlling shares to Belokon for £5m earlier in the month.
Charlton have been owned by Duchatelet since 2014 and he agreed a price to sell the club in February, but a takeover is yet to be finalised.
Alan Davis, from supporters group Coalition Against Roland Duchatelet (CARD), said: "The EFL are taking too narrow a view of their responsibilities.
"But in response, Mr Harvey says he will be meeting Duchatelet personally in the next few weeks and will be conveying our views to him."
Mr Davis, one of two Charlton fans to meet with Harvey along with a Blackpool supporters, added: "The situation about the takeover is clearly subject to a series on non-disclosure agreements, but Mr Harvey has confirmed the delay is not as a result of any lack of process of documentation at the EFL.
"If that's the case, then the question has to be what is holding up the takeover? We look forward to hearing more from the EFL once they had that meeting at the club."
A recent League One home match at The Valley was halted by supporters throwing crisp packets onto the field, in response to reports of Duchatalet's cost-cutting measures.