Tim Howard: Ex-Everton goalkeeper part of consortium buying Dagenham & Redbridge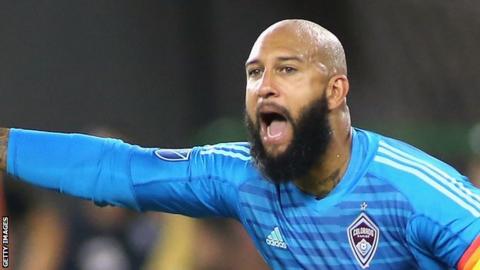 Former Manchester United and Everton goalkeeper Tim Howard is part of a consortium that has purchased a majority stake in Dagenham & Redbridge.
Howard leads Victoria Road Football LLC with Peter Freund, now the Daggers' executive chairman, and Craig Unger.
Both own sport franchises and the group founded United Soccer League club Memphis 901 earlier this year.
USA international Howard now plays for Major League Soccer side Colorado Rapids.
The investment comes after a summer in which Dagenham, managed by former Bradford and Hull boss Peter Taylor, appealed to raise more than £110,000 to ensure their survival following the resignation of director Glyn Hopkin.
Hopkin had purchased 74% of the club in January 2017 before ceasing funding midway through the 2017-18 season.
Four other investors have contributed to the consortium but Howard, the USA's most capped goalkeeper of all-time, is the only former footballer among them.
Freund is the principal owner of portfolio company Trinity Sports Holdings, who have interests in the New York Yankees as well as Minor League Baseball sides Memphis Redbirds, Charleston RiverDogs and Williamsport Crosscutters.
He is also on the boards of two professional basketball leagues and the United Soccer League.
Unger is part of the ownership group of the Memphis Redbirds and oversees the running of AutoZone Park, a 10,000-seat multi-purpose sports facility in Memphis.
Paul Gwinn, who will remain Dagenham chairman, said: "We hope that, with our finances stabilised and a promising young side under the vastly experienced Peter Taylor, the prospect for the club and its supporters is a bright one.
"I would also like to take this opportunity to thank everyone who donated, time or money, to the club over the past months, which was essential to put us in the position we are today.
"As the saying goes, from adversity often comes strength."