West Ham's Manuel Pellegrini 'trusts' own ability despite four Premier League defeats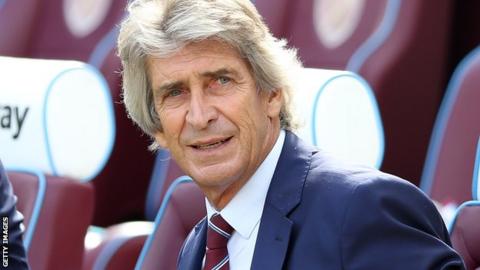 Manuel Pellegrini says he "trusts now more than ever" his ability to manage West Ham despite the club losing their opening four Premier League games.
The Hammers are bottom of the table and have conceded 10 goals, scoring two, in a pointless campaign so far.
"It's not the first time I've had bad results. I am not worried about statistics," said the Chilean, who led Manchester City to the 2013-14 title.
"I am worried about finding a team to play well and win the game."
West Ham visit Everton on Sunday and the 64-year-old said his job was "always tough" and that every club he has managed has had "different issues".
He added: "West Ham is in the correct way, from the ambition of the owners, to having a new and bigger stadium to grow the club, to making improvements to the training ground here at Rush Green."
Pellegrini also dismissed claims he is angry about his team selection being leaked early, with his focus instead on the team picking up points.
He said: "In every team I have managed, I work on set pieces the day before a match so all of the players know who will play and who won't.
"The players talk to other players but I'm not worried about that, I'm worried more about trying to win three points."