Kilmarnock's Steve Clarke says SFA 'unprofessional' for spelling his name wrong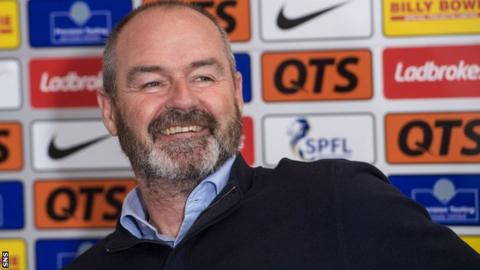 Kilmarnock manager Steve Clarke has branded the Scottish FA unprofessional after the governing body spelt his name wrong on his disciplinary charge.
Clarke is facing a hearing for his criticism of referee Willie Collum for sending off Gary Dicker against Hearts.
"Maybe I'm being a little bit pedantic, but I thought it was disrespectful that they spelt my name wrong, both on the front cover and inside," he said.
"I won't use the word amateurish but certainly unprofessional."
On the charge sheet, his name is written Steven rather than the correct spelling of Stephen.
Clarke's words come the day after Celtic goalkeeper Craig Gordon urged more transparency over the decisions and make-up of the SFA disciplinary panel.
That followed the decision not to retrospectively discipline Rangers counterpart Allan McGregor for kicking out at Gordon's team-mate, Kristoffer Ajer.
Earlier this week, Aberdeen manager Derek McInnes criticised the "incompetency" of the appeals process after his club failed to overturn a red card shown to Mikey Devlin.
Dicker was sent off by Collum against Hearts last month and Clarke claimed the decision to reject Kilmarnock's decision had been "pre-judged".
The manager and his club have until 18 September to respond to a charge of bringing the game into disrepute and Clarke has indicated he will be defending his remarks at a planned 25 October hearing.
"Obviously we're going to fight our corner," he added. "We'll go to the hearing and put forward our case.
"I stand by everything I said in my statement - no retraction - so I look forward to the hearing."
Clarke is disappointed Kilmarnock were charged for reproducing his comments on their website but insists he is not having a go at referees despite saying Collum "lacked a calm and rational approach" in showing Dicker a red card.
"I've got no issues with the referees," he said. "I'm one of the few managers, if not the only one, who goes into shake their hand before every game.
"What might be said afterwards is not personal, it's professional. I like to think I can go in and speak to every referee on a personal basis before every game.
"We just want consistency in decisions, consistency in who you charge and who you don't charge - that's all we ask for. Just put it across the board, the same for every club."