Scottish Women's Football demands minimum standards from top clubs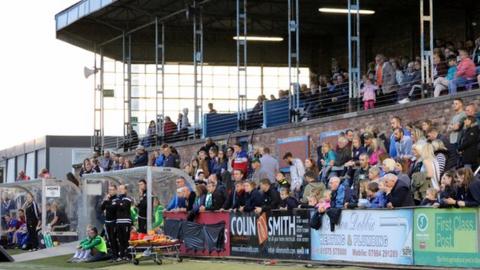 New minimum standards for clubs in Scottish Women's Football have been introduced in an attempt to improve the quality of play - and fan experience.
The 16 clubs in the Premier League's two divisions will now have to have coaches with relevant qualifications.
And refreshments, PA systems, match programmes and covered seating will need to be provided for spectators.
Interim executive officer Lorna Cameron said: "This is a huge step forward for Scottish Women's Football."
The new requirements include:
A head coach/manager with minimum qualifications
A goalkeeping coach with minimum qualifications
A physiotherapist present at all games and players must have access to a physio at least once per week
A full player pathway
Facilities where refreshments (tea/coffee etc.) can be purchased
PA system to ensure key information is communicated
Match programmes produced (digital versions will suffice).
Minimum level of cover for both home and away spectators at 199 seated covered places (SWPL 1 only).
"This criteria is about setting standards to deliver quality on and off the pitch," Cameron added.
"In the past, these areas were left at the clubs discretion with a variety of offerings across the country. There needs to be a consistent approach.
"We want to drive attendances to games, but to do that, we need to be able to provide a positive match-day experience.
"Sheltered seating, match announcements, half-time refreshments - these are key factors in ensuring spectators are well informed, get to know the players on the pitch and can enjoy their overall experience on the day."