Jose Mourinho: Man Utd boss defends Marcus Rashford playing time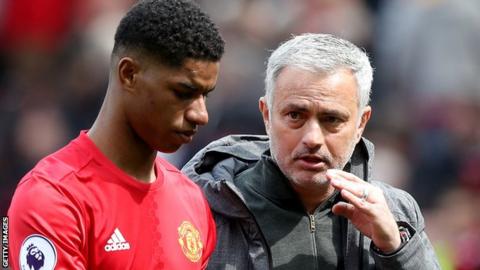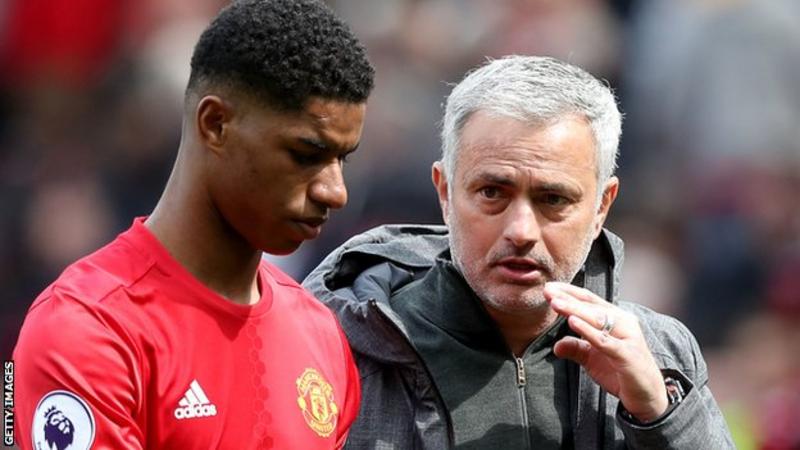 Manchester United manager Jose Mourinho has defended his treatment of striker Marcus Rashford.
Mourinho has been criticised for not playing the 20-year-old, who scored twice for England during the international break, enough in United's opening four Premier League games.
But the Portuguese said Rashford's playing time compares favourably with young English players at rival teams.
"People speaking about his minutes, they are a bit confused," he said.
In his news conference before Saturday's league match at Watford (17:30 BST), Mourinho outlined his use of Rashford over the past two seasons.
He said the forward has played 5,744 minutes in 105 games in all competitions.
"Marcus Rashford is not [Liverpool striker] Dominic Solanke. He's not [Chelsea midfielder] Ruben Loftus-Cheek. He's not [Everton forward] Dominic Calvert-Lewin," said the 55-year-old.
"He's Marcus Rashford, Manchester United player, with an incredible number of appearances and an incredible number of minutes played at the highest level in the best possible competitions."
Figures from football statisticians Opta show no player currently aged under 21 has played more competitive minutes for a Premier League team than Rashford (7,280) since his debut in February 2016.
Mourinho highlighted the club's record in bringing through young British players, while listing Rashford's appearance statistics since he took charge at Old Trafford in 2016.
He added: "So, Manchester United supporters. For you - and just for you - to know what we are doing with Marcus Rashford, Luke Shaw, Jesse Lingard, Scott McTominay. That's what we are doing here."
On England duty, Rashford scored the opener in the 2-1 Nations League loss to Spain and the only goal in a 1-0 friendly win over Switzerland, resulting in questions on the forward's playing time at United.
During Friday's news conference, Mourinho joked he would be "criticised for not playing Rashford tomorrow" against Watford, despite the striker being suspended for three games after being sent off in the Reds' win over Burnley.
He said: "Some of the boys are really obsessed with me and, some of them, I think they have a problem with some compulsive lies."
More minutes under Mourinho than Lingard
BBC Sport's Simon Stone has analysed Rashford's playing time under Mourinho, including his four appearances this season, which the manager omitted from his total (5,744).
There has been a lot of debate over the past few days about Rashford's development - and whether his career would be better served by a loan move.
You can prove anything with statistics of course, but it seems Rashford has fared better than comparable youngsters since Jose Mourinho's arrival at Old Trafford in the summer of 2016 - and that includes United and England team-mate Lingard.
Since the start of the 2016-17 season, 20-year-old Rashford has played 5,866 minutes in all competitions. Lingard, 25, has been involved for 5,070 minutes.
Chelsea's Loftus-Cheek, 22, has managed 2,341 minutes, and that includes his spell on loan at Crystal Palace.
The argument for Rashford is that if he moved somewhere like Everton, he would get more game time.
However, they don't play as many matches, so 21-year-old Calvert-Lewin, one of the most used of the Toffees' group of talented youngsters, has only been involved for 3,793 minutes.
It won't make the argument about how much playing time England's younger players are getting - but maybe Rashford is not the right example to use.