Connor Roberts: Swansea proud of Wales defender's progress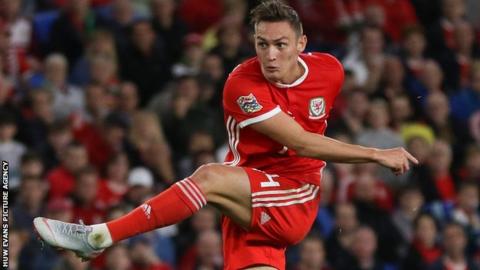 Swansea boss Graham Potter has vowed to help Wales defender Connor Roberts build on the promising start to his international career.
Roberts impressed in his first competitive games for Wales in the Nations League.
The 22-year-old scored in the 4-1 win over the Republic of Ireland and also started in the defeat in Denmark.
"It is fantastic for Connor - to have those experiences to play for his national team is wonderful," he said.
"We are very proud of him.
"There is no point in having 15 minutes of fame - it's about having a long career and a career in which you can influence things at a really good level."
Neath-born Roberts made his senior international debut against Uruguay in March and has won four caps under manager Ryan Giggs.
Roberts, who made his Swansea first team-breakthrough last season, is set to return to the Swans' Championship campaign against Nottingham Forest on Saturday.
"We need to make sure he is okay and ready to go again," Potter added.
"It's a long season coming up, what you don't want him to do is play too much too soon. But physically he is a strong boy and it is good to see him cope with that international football.
"He is at the start of his career and what we want to do is make sure he can play football at the highest level for as long as possible and play as many times for Wales as he can."
Potter is unperturbed about the possibility of Roberts' international form prompting interest from other clubs in the January transfer window.
"If it's the case, they are positive problems to have, players doing well, players attracting interest from other clubs," he said.
"This is part of the game, part of the industry - nothing we should be scared of from our perspective.
"Our job is to try and help Connor enjoy his football, help him improve.
"He is only at the start of the process, the start of his career. He needs to look back in 15 to 20 years and look back at his career and see what he has achieved and that is where we can play a really big role for him."