Hugo Lloris: 'Lucky' Hugo Lloris keeps Tottenham captaincy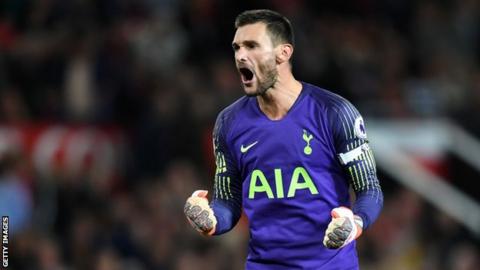 Tottenham manager Mauricio Pochettino says goalkeeper Hugo Lloris was "lucky there was no consequence" of his drink-driving - but he will keep the Spurs captaincy.
The 31-year-old was fined £50,000 and banned from driving for 20 months after admitting the offence.
"It is a lesson, a massive life lesson," Pochettino said.
"But he has the capacity to move on and to learn and be focused on football."
Pochettino added: "He already knew in the moment that it was a big mistake. Lloris is very conscious about what happened and of course you cannot remove.
"He said he is sorry and he is the first to regret about everything and all that happened is not good. He doesn't feel great.
"Everyone can make a mistake, he made a mistake and he is suffering. He is punishing himself."
Police caught Lloris driving his Porsche at 15mph in a 30mph zone, veering towards parked cars and driving through a red light. He was twice the legal drink-dive limit.
Magistrate Amanda Barron said it was "pure luck" no pedestrians were injured.
Asked if Lloris would retain the Spurs captaincy, Pochettino said "of course" but the Argentine admitted the France captain would have accepted being stripped of it.
Pochettino said: "Of course, lucky there was no consequence. That is important.
"He apologised to everyone. We had a conversation and he said 'any decision that you take gaffer or the club I think is fair'. He pleaded guilty and that is it."
The World cup winner missed Tottenham's Premier League game at Watford on 2 September and both of France's matches during the international break with a thigh injury. He is expected to be out for several weeks.
Spurs midfielder Dele Alli will also miss Saturday's game against Liverpool after injuring a hamstring and Pochettino said the player may also miss the game against Inter Milan in the Champions League.
He added: "Lloris will have another scan to see the evolution of his injury. Hopefully it will be OK and he will be available again soon like Dele Alli."
Tottenham are fifth in the Premier League after they lost 2-1 to Watford, while Liverpool are top, having won all four games.