David Wagner: Huddersfield Town boss has worked 'miracles'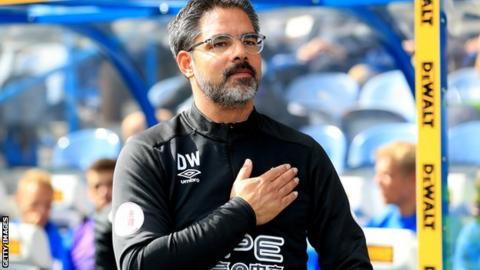 Huddersfield Town chairman Dean Hoyle has said David Wagner would remain the club's manager even if they were relegated from the Premier League.
The 46-year-old led the club to the top flight in 2017 and helped them retain their status in 2017-18.
"Even if we have a bad season, which I don't expect us to do, David will still be the manager," Hoyle told BBC Radio Leeds.
"If we are relegated he would 100% be the manager next season."
He added: "My firm belief is that if we have a bad season and with 10 games to go we change managers, then what is that going to do?
"All it is going to do is maybe give you a bit of a bounce. Look at Stoke last season, they did that and they did not get that bounce.
"Continuity and consistency will give you rewards over a longer period and David is a top manager who has performed miracles. He deserves to be rewarded for what he has done for Huddersfield Town.
"I don't think I can get better than what we have now."
The Terriers, who are 17th in the Premier League table, suffered heavy defeats by Chelsea and Manchester City in their opening two league games this season before draws with Cardiff and Everton in their last two games.
Hoyle admitted the team had had a "difficult" start to the campaign but felt the point at Goodison Park could be a turning point.
"David is very good at is drawing a line in the sand and forgetting what has gone behind us and focusing on what is in front of us," he said.
"We got a really good point at Everton and it was really good to watch. That bodes well and we're getting back to what we know we are, which is a very good team."