Sergio Aguero: Man City striker 'the best I've felt in years' after April operation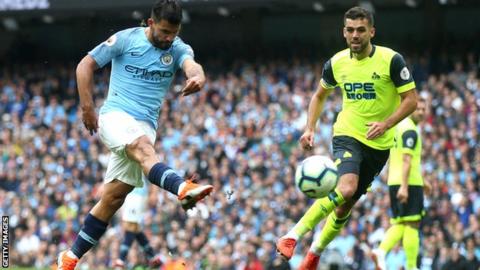 Manchester City striker Sergio Aguero says his fitness is "the best in years" after a knee operation in April.
Aguero won his third Premier League with City in 2017-18 but missed the end of the season to have keyhole surgery.
The 30-year-old Argentine, who broke City's goalscoring record in November, scored two goals in the Community Shield win over Chelsea and three against Huddersfield last month.
"I feel fantastic," he said. "I don't feel any sort of discomfort."
Aguero joined City from Atletico Madrid in July 2011 and has now passed 200 goals for the club.
His 2017-18 campaign ended with the Champions League defeat against Liverpool on 10 April but he returned for the World Cup in Russia and scored two goals as Argentina reached the last 16, where they lost to eventual winners France.
"During the past few years, I felt pains at times and when last season came to an end, we decided it would be best to start treatment. And the results were very positive," he told City's website.
"Dr [Ramon] Cugat did amazing work with my knee. I'm not sure if this is the best start [to] a season for me, but it's the best I've felt in years. It shows in my game."