Scotland will not just play at Hampden after buy-out - McFadden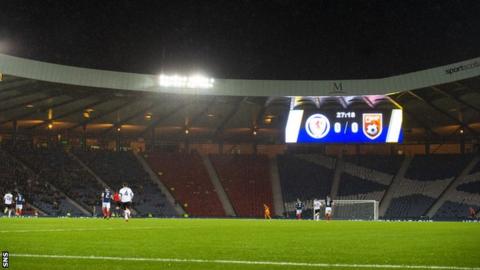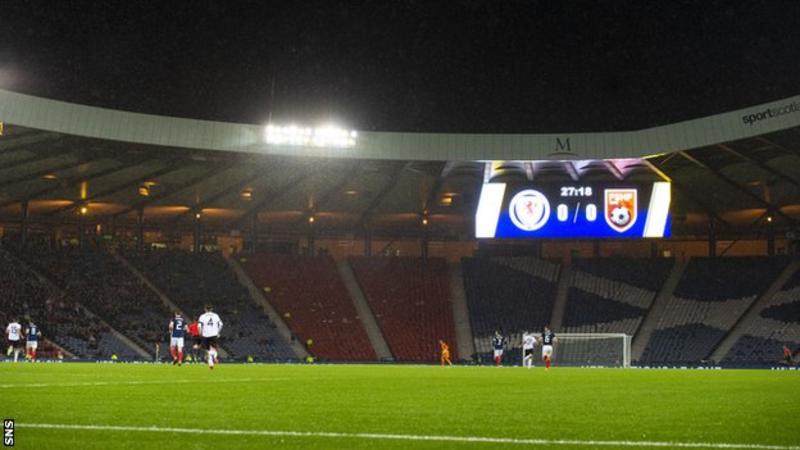 James McFadden expects future Scotland home games to be played at grounds other than Hampden Park, even though the Scottish FA is to buy the stadium.
Friendly internationals have been played at Hibernian's Easter Road Stadium and Aberdeen's Pittodrie Stadium in the past 18 months.
But all of Scotland's competitive games are currently played at Hampden.
"In the future, they can move it around," Scotland assistant coach McFadden told BBC Scotland.
"Because the SFA will own the stadium, all the games won't be at Hampden.
"There'll be times where the games will be moved around to the likes of Tynecastle and Easter Road."
'There'll be massive change to Hampden'
Prior to Tuesday's announcement that the SFA would buy the national stadium from Queen's Park when the current lease for the ground expires in 2020, Scotland beat Albania in Monday's opening Nations League match in front of a Hampden crowd of just over 17,000.
Empty seats were also prevalent at Friday's friendly defeat by World Cup semi-finalists Belgium and the loss to Costa Rica earlier in 2018.
However, the national stadium, which has a capacity of almost 52,000, attracted a crowd of nearly 47,000 for the final home match in their World Cup qualifying campaign against Slovakia last year.
The SFA elected to continue the Glasgow ground's status as the national football stadium rather than moving internationals and domestic cup semi-finals and finals to Murrayfield in Edinburgh.
Scotland head coach Alex McLeish told BBC Radio 5live the SFA's purchase of Hampden was "brilliant news".
And McFadden said on BBC Radio Scotland's Sportsound: "Hampden was the best option and now the SFA can improve it, they can get revenue from their concerts and stuff like that they never got before.
"I think there'll be avenues to go down in terms of investment, whether that be sponsoring the stadium, rebranding it.
"I think there'll be massive change to Hampden, obviously not straight away but in the future and it'll be a stadium that we can all agree on and be proud of."
'Keep main games at Hampden' - analysis
Former Scotland captain Stephen McManus
I think it would be great to go all around the country - go to Pittodrie, go to Tynecastle, go to Easter Road, Celtic Park, Ibrox.
For the friendlies, I think it's great to generate that wee bit of interest.
The main games in Scottish football should be played at Hampden. When I look back at the atmospheres of some of the games that I played in, the ones that stick in my mind are the ones for your national team at Hampden.
It's a great place to play when the place is rocking.