Champions League access for Scottish teams must remain if Uefa competitions expand - Fraser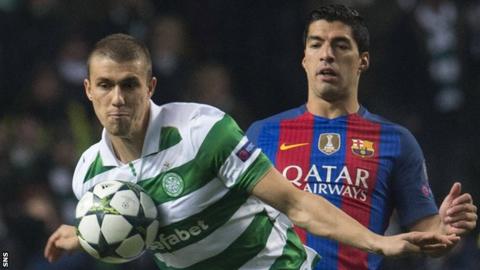 Access to the Champions League for Scottish teams must be an "absolute pre-requisite" if a third European club competition is to begin, says Aberdeen chief executive Duncan Fraser.
A third Uefa club tournament could be introduced alongside the Champions League and Europa League from 2021.
Ring-fencing the top competition would be "opposed" by Scotland, says Fraser.
"It shouldn't be that any competition is elitist for one particular set of nations," said Fraser.
"We've got to hold it together in such a way that our teams are not disadvantaged, or ring-fenced into a second or third-tier competition. We would absolutely oppose that and I'm certain that our representatives will ensure that it doesn't happen.
"Scotland's champions always having the possibility of qualifying for the Champions League must remain in place - that would be an absolute pre-requisite. And likewise the ability for others, who at the moment are trying to get into the Europa League, to still have that opportunity."
'Scottish games alone are not going to make it sustainable'
Celtic missed out on a third successive Champions League group stage appearance this season but have reached the Europa League group stage along with Rangers, who came through four qualifying rounds.
Aberdeen - the last Scottish team to win a European trophy, the old Cup Winners' Cup in 1983 - were knocked out in the second qualifying round by Premier League Burnley, while Hibernian made it to through two qualifiers before falling to Norwegian side Molde.
But Scotland have still risen five places to 21st in the current Uefa coefficient rankings.
"There is a potential that Scotland's four teams involved in European competition have a more realistic route to land a place in the three competitions involved," Fraser told BBC Scotland.
"It's so vital for revenues within the game. For a club like Aberdeen, when we've got plans for a new training facility and stadium, you're investing over £50m in those. Scottish games alone are not going to make it sustainable for us in the long term if we don't have regular European club competition.
"You just have to look at this year when we played Burnley. Both games were a sell-out, we could have taken 6,000 or 7,000 down to Burnley for the second leg and it just generates so much interest in the city.
"Because you've been successful in the past, that carries a degree of weight but times move on. The reality of the European situation now is the big clubs are getting stronger."