Gabon 'will not renew' Spanish coach Jose Antonio Camacho's contract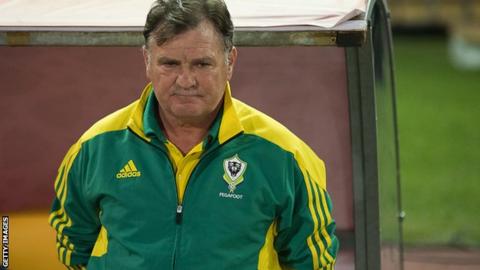 Jose Antonio Camacho's contract as coach of the Gabon national team will not be renewed at the end of November according to he country's sports minister Alain Claude Billie By-Nze.
The news comes after the Panthers lost to visiting Zambia 1-0 on Tuesday in an international friendly a result that came three days after a 1-1 draw with Burundi in an Africa Cup of Nations qualifier.
It remains to be seen who will be in charge of Gabon for the next competitive games in mid-October, back-to-back Nations Cup qualifiers against South Sudan.
Saturday's draw with Burundi leaves the Panthers third in Group C having lost the opening tie 2-1 away in Mali.
Reports in Gabon suggest that the football federation, Fegafoot, wants to sack the 63-year-old Spaniard.
Camacho took over as Gabon coach in November 2016 on a two-year deal, shortly before the country hosted the Africa Cup of Nations finals.
He arrived with an impressive curriculum vitae having coached the Spanish national team as well as high profile clubs like Real Madrid, Sevilla and Benfica.
However he was unable to achieve success with Gabon, his side failed to get past the group stage of the Nations Cup on home soil in 2017.
He was only able to win two out of 17 games since he took over Panthers losing seven and drawing eight draws.