Algeria's USMA unrepentant over Iraqi chant controversy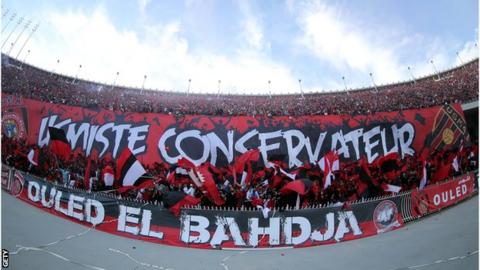 Algerian club USM Alger seem unrepentant over chants about Saddam Hussein that ended with the Iraqi Air Force side walking off the pitch.
The incident happened during Sunday's Arab Club Champions Cup tie and led to Algeria's ambassador being summoned by Iraq's Ministry of Foreign Affairs.
USMA president Hakim Serrar insisted it had been a misunderstanding as the club finally responded on Tuesday.
"The songs by our supporters were not mean or insulting," he insisted.
"It was just a way for them to honour the Iraqi team through its former president. The match took place in very good conditions. It was all a misunderstanding.
"The Union of Arab Football Associations (UAFA) have not contacted us. We took the initiative and explained what happened. It is a banal affair."
Algeria's Olympic committee said in a statement that "the solidarity and friendship between the two nations cannot be affected by the behaviours of some supporters."
While the Algerian minister of youth and sports also reassured the chants are "an incident that cannot affect the relationship between the two countries."
The Iraqi side were losing 2-0 on the night and 3-0 overall and left the pitch with 20 minutes remaining.
The president of the Iraqi Football Association Abdelkhaleq Messaoud took a different view of the songs.
"If UAFA does not make the decision to respect our rights, the Iraqi Federation will withdraw its clubs (from the Arab Champions League). We will not allow the crowd to insult us and our country," he said.
The USMA goalkeeper Mohamed Lamine Zemmamouche has asked the club's supporters to reconsider their chants.
"I apologized as club captain. What happened was not good for us. It was negative," he said.
"I hope that our supporters will stop singing political slogans and support the team by singing songs about USMA."
UAFA are yet to publicly comment on the situation but Serrar is expecting the union to take action against his club.
"For sure there will be fines for political songs. FIFA bans such singing not just UAFA. The club will accept whatever financial penalties it is given," he added.
"The problem of political chanting is a national one. We would need another press conference to properly address it. It's a culture."
"Our supporters will learn the lesson on their own. They should only chant about their own team, not the opposing one. They are independent."
The Iraqi Air Force are also expected to face sanctions for abandoning the match.