Scottish FA at start of Hampden "journey", says Ian Maxwell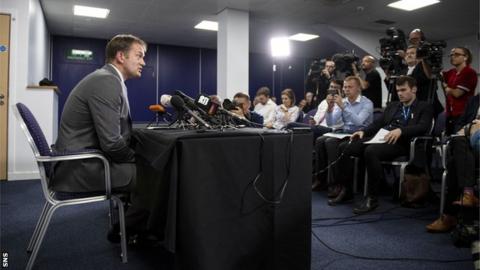 The Scottish FA are at "the start of a journey" to make Hampden "the best it can be", says chief executive Ian Maxwell.
A £5m deal has been agreed with current owners Queen's Park to buy the Glasgow ground in 2020.
Maxwell admits Hampden "needs improved" but says the SFA are "committed" to giving Scottish football fans a home to be proud of.
"I think it's a fantastic day for Scottish football," he said.
"There's no doubt Hampden needs to be improved. We're not going to hide from that.
"Whether that's outside the stadium in terms of pre-match to enhance the matchday experience or what we can do when we are inside the stadium bowl, what we can do from a seating perspective.
"This is very much the start of a journey for the Scottish FA to make the Scottish national stadium the best it can possibly be and we are committed to doing that."
Murrayfield - 'It was incredibly close'
Hampden, which has a capacity of 51,866, faced stiff opposition for the SFA's business with the Scottish Rugby Union putting forward a strong case for Scotland matches and cup showpiece games to be taken to the 67,144 capacity Murrayfield in Edinburgh.
Maxwell admits the SRU's proposal was "compelling" and that the decision was far from straightforward.
"It was incredibly close," he said.
"I've sat in board meetings that got heated. It was close and very hotly debated."
Half of the SFA's £5m fee for Hampden came via a donation from Scottish businessmen Lord Willie Haughey and Sir Tom Hunter.
"Lord Haughey's contribution was instrumental," said Maxwell of Haughey, who was the only benefactor named by the SFA.
"If there was no deal done with Queen's Park for ownership, I would be sitting here telling you we were going to Murrayfield. It played a vital part in that."
'No way we could let Scotland leave Glasgow' - Haughey
Haughey, 62, is a former non-executive director of Celtic, and he told BBC Scotland how he would be willing to contribute further if the circumstances were right.
"If things are okay then yes, definitely," he told Reporting Scotland.
"Glasgow is the home of Scottish football. There was no way we could let the Scottish national team move out of Glasgow.
"When I read in the papers it looked like it was going to Murrayfield, I made an offer to the SFA to bridge the gap.
"After it became public, a good friend of mind Sir Tom Hunter got in touch with me and said 'Willie, I love what you're doing, thinking about it myself, anything you need I'm in for half'."
German engineering
One of the main complaints from supporters at the national stadium is the poor view from behind both sets of goals.
Maxwell addressed this issue, saying the SFA would look at the example set by Stuttgart after they redeveloped the Mercedes-Benz Arena by bringing in both goal-side stands.
"There's a possibility of that happening," he added.
"We are aware of the Stuttgart model. That's something we are absolutely committed to investigating as part of the wider development of the stadium."