PFA facing a 'burden' to support players on mental health - Nigel Clough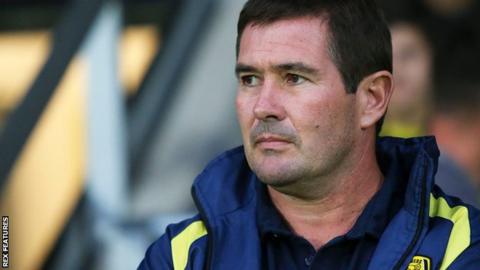 The Professional Footballers' Association (PFA) will face a "burden" to deal with players' mental health issues in the coming years, according to Burton Albion manager Nigel Clough.
Burton forward Marvin Sordell is among several footballers to have spoken about personal problems in recent weeks, telling the Guardian he felt "dead inside" for a long time during his career while dealing with depression.
The players' union has told BBC Sport that more footballers are using its welfare services.
A total of 403 players sought PFA support last year, up from 103 in 2016, while 312 have used their services up to August this year.
"The PFA have an increasing workload in this area with professional footballers," Clough told BBC Radio Derby.
"It will be a burden for the PFA in the next few years but they have the funds and there is that much money in football at the moment that there should be a fair allocation to deal with these sorts of issues."
Notts County defender Matt Tootle and former Reading midfielder Scott Davies have revealed gambling problems in the past month, while last year ex-Liverpool and England goalkeeper Chris Kirkland spoke about his struggles with depression and anxiety.
Michael Bennett, the PFA's head of player welfare, believes sharing their experiences will make it easier for others to come forward and seek the support they need.
"We are saying to players that you have to marry up the importance of looking after yourself physically, and emotionally and mentally," he told BBC Sport.
"We still have to continue to sow seeds and make our members aware of what support is in place.
"We are trying to move from being reactive to being proactive."
Clough agrees with the view that more players will be encouraged to talk about their issues.
"In the dressing room, I'm sure it existed 20 or 30 years ago, but no-one would have come out and admitted to it and think that is the big difference," the 52-year-old said.
"The more who can talk about it, the better it is.
"As more players come out and talk, more players will feel more comfortable saying 'yep, I feel like that as well'.
PFA support 'as good as it can be'
The PFA works closely with the Sporting Chance clinic and Epic Risk Management, holding educational workshops at clubs about the impact of several issues on wellbeing.
It also offers a 24-hour telephone helpline to players wishing to talk about any issues they have, as well as a nationwide network of counsellors to which players have access.
"We needed to implement some emotional support for players which they could go and access away from their club or family in a private and confidential setting where they could talk through any issue they have got; whether it is gambling, mental health, long-term injury or whatever," Bennett said.
"They can go into a private place and sit down and talk about their emotional wellbeing."
Clough believes players' access to help via the PFA is "as good as it can be".
He continued: "Identifying [problems] is the key, as none of us [coaches] are experts in the field.
"The best thing we can do is as soon as we see there is a problem is get the experts involved as quickly as possible, which is what we did with Marvin.
"Once it was identified at our end we talked and the next contact was direct with PFA. Usually within 24 hours something is set up to see somebody."
Bennett, who had spells with Charlton, Wimbledon FC, Brentford, Millwall, Cardiff and Brighton during his playing career, has encouraged any player dealing with issues to seek help from the PFA.
"We can't keep abreast of what our members are doing," he added.
"We want our members to come to us and make us aware of what issues they are going through so we can help them."