Bolton Wanderers agree deal with main creditor to avoid administration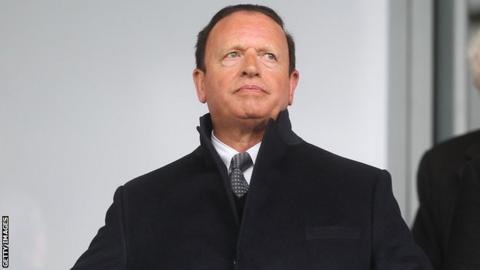 Bolton Wanderers say they have avoided administration after agreeing a deal to pay off their main creditor BluMarble Capital Ltd.
Owner Ken Anderson had warned the Championship club was due to be placed in administration after an initial offer to repay the firm was rejected.
Bolton had offered to repay a £4m loan plus interest but have not confirmed the financial aspects of the deal.
They have, however, avoided punishment from the English Football League (EFL).
Administration would have drawn a 12-point deduction and a two-year transfer ban from EFL.
But terms of a settlement were agreed with the finance firm to ensure that they did not lodge papers at the High Court on Tuesday.
In a statement to supporters Anderson apologised for the "consternation" caused but said that the last few days had been "very complex and far from easy".
He also confirmed that loans from other creditors had been extended on better terms than before, saying it would save the club around £1.5m moving forward.
"I believe the club now has one of the lowest debt positions in the Championship," he said.
Bolton took out a loan with BluMarble in 2015 and according to the Bolton News there is a funding gap for the next 12 months of up to £13m.
Wanderers, who were promoted from League One last season, almost went into administration in November 2016 and faced a winding-up petition over unpaid taxes last summer.
They also cancelled a friendly with St Mirren in July after players went on strike claiming they had not been paid wages and bonuses owed to them.