FIFA19: Tottenham fans can take 'virtual' look inside new stadium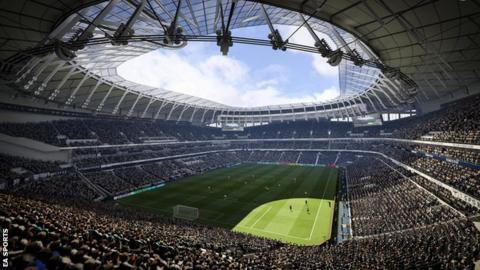 Tottenham fans will be able to see inside their new stadium before they can physically step foot in it - thanks to a video game.
FIFA19 will feature a virtual version of the ground when it launches on 28 September.
"Safety issues" delayed the opening of the stadium by several months, causing disruption to Spurs' fixtures.
The 62,062-seat stadium was due to open on 15 September for Tottenham's game against Liverpool.
However, fans will not be able to attend a game until at least November.
Craven Cottage, Cardiff City Stadium and Molineux will also be included in the video game this year by developers EA Sports.
They join the other 17 Premier League venues after Fulham, Cardiff and Wolves were promoted to the top flight.
Portsmouth's Fratton Park, Sunderland's Stadium of Light and Aston Villa's Villa Park are among the stadiums chosen from the English Football League.