Zambia starting from 'year zero' says coach Sven Vandenbroeck
By Samindra Kunti
Football Writer
Last updated on .From the section African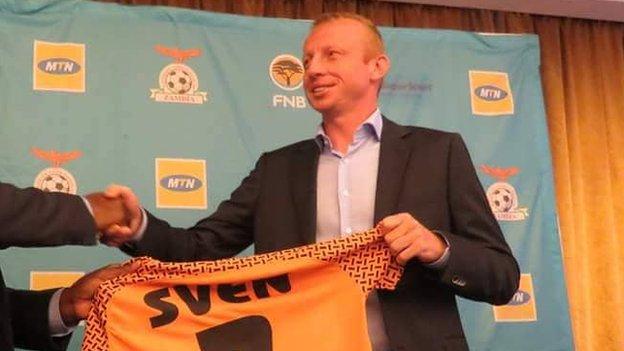 Zambia coach Sven Vandenbroeck has stuck to his promise of starting his reign as 'year zero'.
His stance offered a clean slate to previously exiled players and saw him recalling the likes of Rainford Kalaba and Nathan Sinkala.
The duo played in the Belgian's first competitive game on Saturday, a 1-1 draw in Namibia in a 2019 Africa Cup of Nations qualifier.
"There were a few problems with a few players under the previous coach," Vandenbroeck told BBC Sport.
"I didn't consider that. I gave everyone the chance to show their worth at their clubs.
"I think the whole FA and a lot of people around the team are happy that everything is restarting from zero, because those players [the exiles] certainly have qualities.
"There are rumours about what happened in the past. I say that I can't judge that. They have to ensure that it doesn't occur again."
Vandenbroeck named five exiles, including former captain Kalaba, who had been banned under his predecessor Wedson Nyirenda, in his squad for the 1-1 draw with Namibia.
He then gave several different players the chance on Tuesday in a 1-0 friendly win over Gabon in Libreville, with Justin Shonga on target as he had been against Namibia.
His last job saw him work as an assistant under Hugo Broos when Cameroon won the 2017 Africa Cup of Nations and the Belgian has set qualification for next year's finals as his main target.
After his appointment in July Vandenbroeck spent his first few months observing local players at training camps in Lusaka and watching matches in the local league.
He also travelled to South Africa and Europe to scout the Zambian players based abroad before whittling down his selection.
"I think starting from zero and giving everyone a chance again is good," explained Vandenbroeck.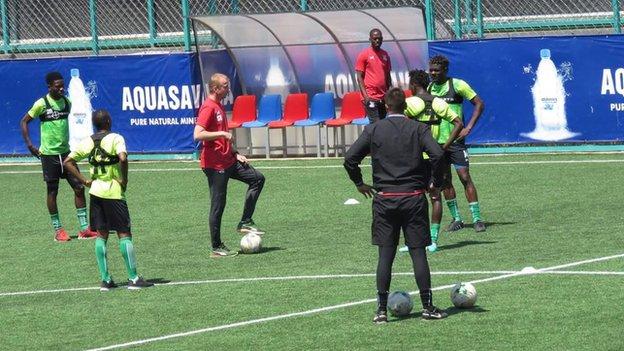 "That gives a certain competition in the group and the guys, who were left out for one-and-a-half years.
"I feel that they have a hunger again for the national team - that they want to rerun to prove something and maybe put the previous coach in the wrong."
The 2012 African champions began their campaign to qualify for 2019 with a shock 1-0 loss against Mozambique last year and face Guinea-Bissau home and away in October.
"In Zambia the expectations are very high, the pressure maybe not so," said Vandenbroeck.
"Our group doesn't contain a major nation, which increases our qualification chances."
He believes that his experience of winning the Nations Cup was key to him getting the role with Chipolopolo.
"They [the Football Association of Zambia] are very victory-minded," stressed Vandenbroeck.
"Whether it is good or bad doesn't matter as long as you win.
"That also played an important role, even if I was simply an assistant [coach] in Cameroon. I think they thought he has the experience and he has been there - he has won something."
Zambian fans will be hoping that his winning experience will rub off on the Chipolopolo and that he can win the Nations Cup for a second time in a row.