England: Players getting game time - the biggest threat to future?
Last updated on .From the section England283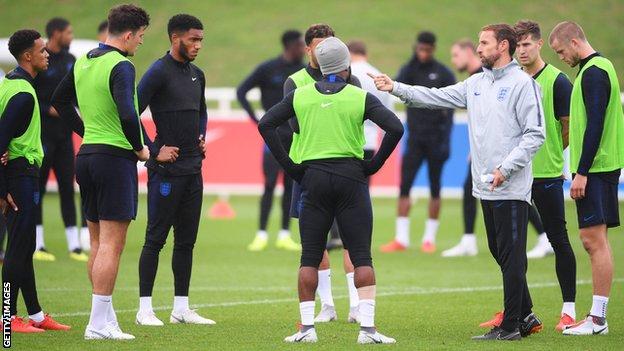 From the outside, England's international future appears bright.
In the past 15 months, the country's youth teams - ranging from under-17 to under-21 - have claimed two World Cups, a European Championship and a third successive Toulon Tournament, with the protagonists of these sides some of the most sought-after young players in Europe.
In Russia this summer, the senior side came as close to winning the World Cup as at any time in the past 28 years, utilising a squad with the tournament's joint average youngest age.
However, in the offices of St George's Park, there is justifiable concern at what is seen as a growing threat to sustaining this success.
"Our pool [of players] is getting smaller and smaller," England boss Gareth Southgate told reporters last week, referring to statistics showing that English players have played 30.4% of the 7,200 minutes in the Premier League so far this season, down from 33% in 2017-18.
The late return of England's World Cup squad after their journey to the last four partly accounts for this, but the percentage is even lower - closer to 20% - at the Premier League's 'big six' clubs, those most likely to expose English players to the pressures of European football.
Bottom of the pile
"There are so many positive things that have contributed to where we are now," continued Southgate during last week's news conference.
"But there is still this link between 17 to 21 where the bridge into first-team football and the financial power of the Premier League has a big impact as does the precarious nature of managers in the top flight in particular.
"I think it's worth us having that debate and getting people around the table to discuss that missing piece. If players are as good as any young players around the world then that opportunity needs to be there.
"If we are encouraging young players about entering academies we are selling them the dream and there's an ethical element there too."
Since the start of the 2018-19 campaign, 17 English players under the age of 21 have featured in the Premier League, which represents the lowest number of home-grown players in any of Europe's top five leagues - those in England, France, Germany, Italy and Spain.
Granted, the Premier League season is only four games old - hardly a sample size from which to draw cast-iron conclusions - but this is a continuation of a worrying trend.
In 2017-18, 43 English players under the age of 21 featured in the Premier League. No prizes for guessing where this places the English top-flight in comparison to its major European peers.
It is interesting to see France's Ligue 1 top both of these tables. This factor alone cannot account for such success, but Didier Deschamps' side's victory in Russia this summer suggests they are doing something right over the channel.
Under-21 and under-exposed
The England Under-21 side makes for a particularly damning case study, partly explaining why Southgate says he may have to look to those competing in the Championship for future squads.
Theoretically the final testing ground for young English players before they graduate to the seniors, the current Under-21 squad contains 23 players, only six of whom have played with any kind of regularity for a Premier League club this season - Crystal Palace's Aaron Wan-Bissaka, Everton's Tom Davies, Fulham's Ryan Sessegnon, Leicester's Ben Chilwell, Demarai Gray and James Maddison.
Players in the Under-21 squad contracted to Premier League clubs have played 1,861 of the 7,560 minutes potentially available to them this season - just 24.62%.
Under-21 manager Aidy Boothroyd echoed Southgate's sentiments in his assessment of the situation, describing the current statistics as a "massive red flag".
"If we don't put this right we're going to have a chronic situation," Boothroyd told BBC Sport. "We want the players to play and there seems to be a ceiling of development at the moment.
"I haven't got the answers, but it certainly is a concern. The governing bodies need to get together and focus on what the long-term problems are, rather than what the short-term is.
"You will always have a certain amount of quality players who will play but there are more who need an opportunity."
Maddison has impressed while playing 306 of the 360 minutes available this season for Leicester, whom he joined from Championship side Norwich this summer, having previously played in League One as a teenager for Coventry.
"I've played a lot of minutes from a young age but everyone has a different route or path," said the 21-year-old. "We all want to play in the first team and hopefully more English young lads can.
"The Premier League is the toughest league in the world and there is so much money teams can just go and buy players. You have to take it into your own hands. It's not always easy but that's what you've got to do and if you are given that opportunity you have to take it by the scruff of the neck."
The solution?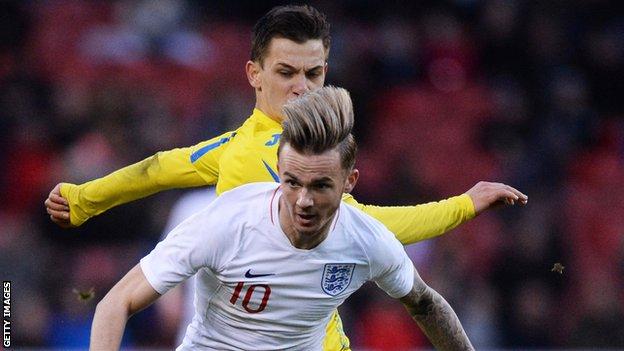 Maddison is not alone in his belief that hard work and perseverance are the key to gaining first-team opportunities in the Premier League.
"It's about being patient and waiting for that opportunity to come and when it does you have to take it," says Kieran Trippier, one of the stars of England's 2018 World Cup campaign.
"It took a long time for me personally but I was willing to wait. If you look down at the youth, the under-21s, 20s, there are so many good players. They've just got to keep learning, improving and be patient."
The home-grown player rule was designed to promote English talent, ensuring that Premier League clubs must name eight players in their 25-man squad that have been on their books for at least three years before they turn 21 - but there is no stipulation they must be English.
Such a quota-based way of engineering squads could well be influenced by Brexit, although the Premier League are pursuing means to avoid tough regulations on signing European players when Britain leaves the European Union.
In a statement to BBC Sport, a Premier League spokesman said: "Premier League clubs have made significant enhancements to their academies through the implementation of the Elite Player Performance Plan, which has the number one aim of developing better home-grown players.
"Some of their very best young talent, with the benefit of excellent coaching and management from the FA at St George's Park, have played key roles in recent age group national team successes. The clubs are committed to continuing this approach and strive to develop the best possible players and to pit them with and against some of the best talent from across the world."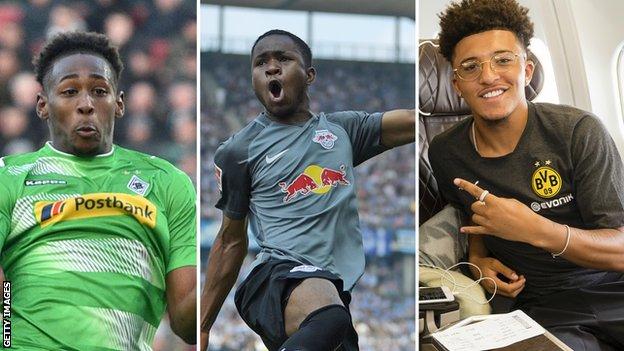 An increasing number of young English players clearly believe that the door is closed on home soil and that first-team opportunities are more plentiful elsewhere in Europe.
In addition to the 17 English youngsters to have featured in the Premier League this season, there are four who have appeared for foreign clubs in 2018-19: Ronaldo Vieira at Sampdoria, Jadon Sancho of Borussia Dortmund, Sheyi Ojo, who is on loan at Reims from Liverpool and Patrick Roberts, on loan at Girona from Manchester City.
Reiss Nelson, who made three league appearances for Arsenal last season, is yet to play for Hoffenheim after joining the German club on loan.
Young Lions in Germany 2017-18

Player

Left

Joined

2017-18 Bundesliga appearances

Career Bundesliga minutes

Goals

Career PL minutes

Jadon Sancho

Manchester City

Borussia Dortmund

12

685

1

0

Ademola Lookman

Everton

RB Leipzig (loan)

11

575

5

441

Reece Oxford

West Ham

Monchengladbach (loan)

7

463

0

215

Mandela Egbo

Crystal Palace

Monchengladbach (in 2015)

1

10

0

0

Ryan Kent

Liverpool

Freiburg (loan)

6

241

0

0

Kaylen Hinds

Arsenal

Wolfsburg

1

90

0

0

Kevin Danso

MK Dons

Augsburg (in 2014)

16

1720

2

0
Eric Dier, another of England's senior World Cup players, who began his career in Portugal before returning to this country to join Tottenham in 2014, is supportive of young players moving abroad, but feels the key is to find an environment that is supportive to their development, regardless of location.
"I have only positive things to take from it [living abroad]," Dier told BBC Sport. "It was a fantastic time for me to live there and grow up there and learn football there, it benefitted me in lots of ways and it still benefits me today.
"It's very difficult for me to speak about different people, everyone has a different take and situations. However, I do feel for a young player the most important thing is to be in an environment where they are supported, where they feel like they will get a lot of game time and learn not be judged all the time on mistakes, because they are going to make mistakes."