Scotland Women: What will World Cup qualification do?
By Bryn Palmer
BBC Scotland
Last updated on .From the section Women's Football
Scotland are going to the World Cup in France next summer.
It will be the first time the women's team have reached the game's showpiece tournament and the first time any Scottish side have since the men opened the 1998 finals in Paris.
The achievement follows on from their major tournament debut in last year's European Championships, but who are these new heroes? What impact will their qualification have? And will it benefit the game in Scotland?
BBC Scotland asked some of those closest to the game in this country...
Are all of Scotland's players professional?
Nineteen of the 23 players in Shelley Kerr's squad for the final two qualifiers against Switzerland and Albania are professional. Fifteen play in England, two in Sweden, one in Italy and one in the United States.
The remaining four - three from Glasgow City, one from Hibernian - play in the Scottish Women's Premier League (SWPL), which consists of two divisions, and is almost exclusively amateur.
"You could probably count on one hand the number of players who are paid," says Laura Montgomery, a former captain of Glasgow City who now runs the club around her day job of head of sales and sponsorship at Hibernian.
"We pay a couple of players, but it is just expenses - petrol money, things like that. It is certainly not anything you can go and buy a car from. There is just not the money available."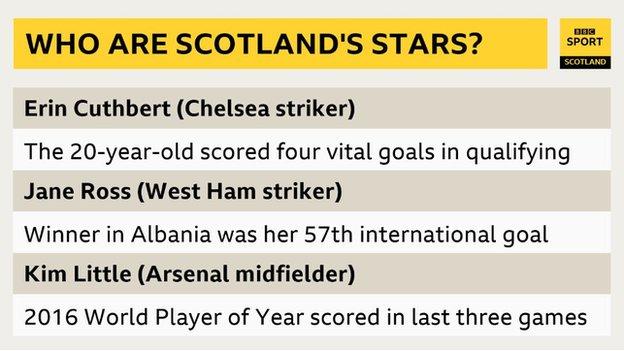 Glasgow City's Jo Love, 32, works full-time and uses all of her annual leave to play for her country.
"She will probably be the last one of a generation who does that," says former Scotland goalkeeper Gemma Fay, who won 203 caps. "It really isn't possible to earn any sort of decent living playing in Scotland."
Hibs recently lost two of their Scotland internationals, Lizzie Arnot and Kirsty Smith, to Manchester United's new women's team.
"It is hard to turn down that carrot of professional football, as there is nothing up here to entice girls to stay in Scotland," says Hibs club-mate Rachael Small.
"It is incredibly difficult working and trying to run a house and car and pay the bills as well as trying to compete with girls who are professional - their fitness is on another level."
How big is the women's game in Scotland?
The Scottish FA says there are around 12,500 registered players in the country - compared to 6,500 five years ago - with six regional administrative centres across the country.
But attendances at club games are sparse, often just a smattering of parents and friends of the players.
Glasgow City, who have won the past 11 Scottish Women's Premier League titles, have a loyal band of 50-100 supporters, though their matches in the Women's Champions League can attract up to 2,000 fans.
On the international front, Scotland's following has been growing, with several thousand fans at each of the home World Cup qualifiers. Indeed, the 4,098 who attended last Thursday's 2-1 win over Switzerland in Paisley was a new record for a women's game in this country.
The SWPL only gained a sponsor for the first time last season, and while a new three-year TV contract with BBC ALBA for Scotland's World Cup and competitive home games will boost investment, a professional league is currently considered a distant prospect.
"To continue to have a good Scotland national team, we need to work out how we get our league professional," says Montgomery.
"The more we can produce real quality players, hopefully we don't just qualify for major tournaments but go on and do well in them."
What effect will World Cup qualification have?
The Scottish FA anticipates "another strong influx of girls" taking up football on the back of Scotland's success.
Donald Gillies, its head of girls' and women's football, says the achievements of Kerr's squad "present a great opportunity" to develop the game, but perception is also a key driver for change.
Fay admits some of the reaction to Scotland's achievement betrays an "ignorance" about the women's game that "makes her blood boil". She says some have belittled the triumph "because they are women".
The 36-year-old believes comparisons with men's football are unhelpful, with more education about the women's game required.
"We have had a BBC World Player of the Year in Kim Little, and others who play for Arsenal, Chelsea, Seattle, Bayern Munich," she says.
"If these were male footballers, they would be lauded as absolute gods. But because it is women's football, that takes second place to the fact they are women. That attitude is the thing that needs to change."
Scotland's first World Cup finals in more than 20 years - for men or women - will inevitably bring greater media exposure, and perhaps more appreciation of what the women's game has to offer.
"If people start to realise it is completely different to the men's in terms of tempo and aggression, they will come round to the fact that technically the women's game is as good as the men's," says Small.
Montgomery, meanwhile, thinks World Cup qualification offers companies opportunities around Scottish women's football, which has a "different audience from the mainstream men's game".
"Just because you are one of the 60,000 Celtic fans who go to the men's games, doesn't mean you will go and watch Celtic women play," she says.
"Women's football is much more accessible. It is very family-orientated and this is a great commercial opportunity to target that."