Paul Scholes: Man Utd great plays for Royton Town in Manchester Premier League
Last updated on .From the section Football
When Royton Town turned up at Stockport Georgians for their Manchester Premier League match on Saturday, they told their hosts they were short of players and drafting in the 43-year-old father of one of their regulars.
What they didn't say was the dad in question was former Manchester United and England midfielder Paul Scholes.
Now the 11th tier of English football is not the place you'd expect to see one of the Premier League's greatest players, but Scholes laced up his boots after a call from Royton manager Mark Howard.
"We had eight or nine of our senior players missing and Paul said he'd be happy to help out if we were ever short as his son Arron plays for us," said Howard.
"It's great for the league. He raises the level of those around him by 10-15% and opponents don't want to look stupid in front of him."
Scholes, capped 66 times by England, won 11 Premier League titles and two Champions Leagues with United.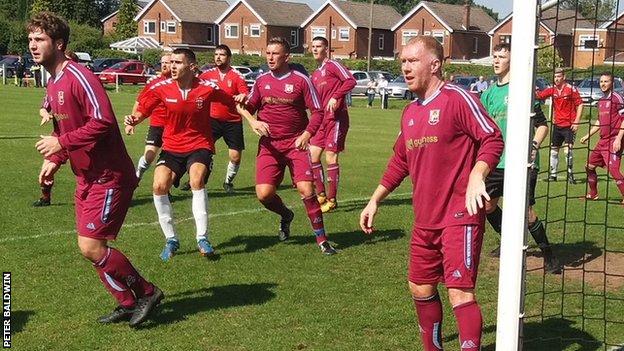 "Usually these sort of games attract 40 or 50 people but there were a lot more there when word got out that he was playing," said Royton chairman Gary Leeming.
"I can't imagine Stockport Georgians have ever had so many people on their car park.
"We were down to the bare bones. He's 43 now but he's still got that magic wand and he was absolutely fantastic for us.
"He obviously has a lot of media commitments but he occasionally trains with us when he can and is still a great player."
Despite the presence of their highly decorated interloper, Royton - who are fourth in the table - lost 1-0.