Nations League: Denmark name futsal players in squad for Wales game amid dispute
Last updated on .From the section Wales
Uefa Nations League: Denmark v Wales
Venue:
Aarhus Stadium
Date:
Sunday, 9 September
Kick-off:
17:00 BST
Coverage:
Live on BBC Radio 5 live, Radio Wales and Radio Cymru, the BBC Sport website and BBC Sport app, plus live text commentary.
Denmark could pick a side including futsal players against Wales in the Nations League on 9 September.
Senior players have refused to sign a new national team agreement with the Danish Football Association (DBU) in a dispute over commercial rights.
The 24-man squad is also without Danish Superliga or First Division players.
The DBU has confirmed third tier, fourth tier and futsal players will make up the squad for a friendly with Slovakia and then against Wales.
Danish newspaper Ekstra Bladet reports that Denmark's team will consist of several futsal players, a variant of football played on a hard court and similar to five-a-side but with a smaller and harder ball.
There are a total of eight players from Avarta, Skovshoved IF, IF Skjold Birkerød, Hellerup IK, Hillerød Fodbold - Danish Second Division clubs - who have made themselves available.
One of those, Avarta striker Christian Offenberg, 30, is the league's top scorer with five goals from six matches so far this season.
Players from fourth-tier clubs Jægersborg Boldklub, Vanløse IF and Kastrup Boldklub have also been named in the squad.
A total of five players from the 24 called up were in Denmark's national futsal squad for their last match against Greenland in May.
Denmark manager Age Hareide and assistant Jon Dahl Tomasson will not take charge of the team, with Euro 92 winner John Jensen in temporary charge.
The DBU has decided that Hareide should not be involved as the team will consist of players he has not selected.
On Sunday, the DBU rejected an offer by the Danish Football Players' Association (Spillerforeningen) to play the two fixtures under the terms of their previous deal.
Tottenham and Denmark midfielder Christian Eriksen is a member of the Spillerforeningen and on Tuesday the players' body again offered to fulfil the fixtures under the old terms.
"We again offer a temporary extension of the old agreement - and then we travel to Slovakia today," Eriksen said in a statement.
"All in all, the whole national team, together we enter the agreement and together we save the face of Danish football. We are right here and want to play football for Denmark - as always.
"We have to solve this conflict now, not just dig the ditches deeper. So we're happy to extend our hand again... let's renew the old deal by one month."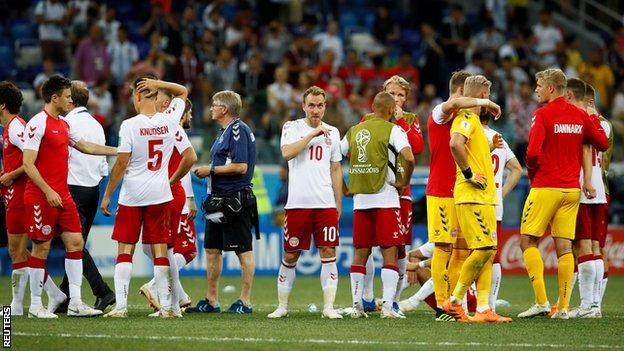 Denmark risk being barred by European governing body Uefa if they fail to fulfil either of the fixtures.
The Denmark women's team boycotted a World Cup qualifier against Sweden in October 2017 in a dispute over employment conditions.
Uefa ruled out ejecting the team from qualification, instead awarding Sweden a 3-0 win and fining the DBU £18,000.
But the DBU was warned that Denmark would be ruled out of any Uefa tournament if it cancelled another match in the next four years.
The DBU therefore had no choice but to select whatever squad it could for the upcoming matches.
In a statement released last weekend, DBU chief executive officer Claus Bretton-Meyer described the situation as "deeply regrettable".
He added: "It is crucial for the future of Danish football. If the games are not played, we may be fighting millions in fines and exclusions for both national teams - and Danish football will be returned to the stone age in many areas."
Former Denmark and Celtic midfielder Morten Wieghorst says the situation is hugely damaging.
"I think chaos is a very good description," Wieghorst told BBC Sport Wales.
"It looks like we will field a team of futsal players and lower league… that is not good for Danish football. Deep down I still want to believe this will not happen. They need to sort it out so the real Denmark players can play.
"If it is going to be this alternative team, it is going to be a bit of a joke. It makes me feel bad. If we play an under-strength team against Wales it will be a massive joke. Danish football's reputation will be hurt."
Before the Denmark game, Wales begin their Nations League campaign on 6 September against the Republic of Ireland at Cardiff City Stadium.
What is futsal?
Rather than a traditional 11-a-side game of football, futsal has five players on each team. It is played with a small ball with 30% less bounce than the average football.

Futsal is played indoors with two 20-minute halves. A stop clock is used and time-outs are permitted.

Futsal gets its name from the Spanish 'fútbol de sala' or Portuguese 'futebol de salão' which translates to 'lounge football' in English.

The exact origins of futsal are disputed. Argentinean coach Juan Carlos Ceriani created an indoor 11-a-side game in Montevideo in Uruguay in 1930 for local competitions in YMCAs while the first rules of a similar version of the game played in the streets in Sao Paulo were recorded in Brazil in 1936.

Fifa became the game's governing body in 1989 with the first ever Fifa Futsal World Championship being held in the Netherlands that same year.

An estimated 30 million people play worldwide with Fifa calling it "the fastest growing indoor sport in the world".