Newcastle United: Rafael Benitez plays down bust-up between Jamaal Lascelles and Matt Ritchie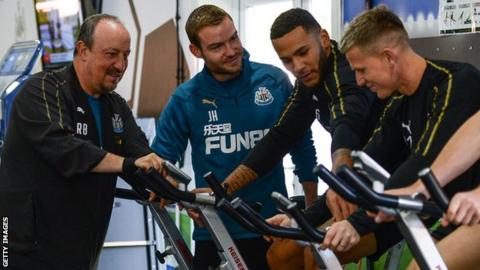 Rafael Benitez has played down a reported training-ground bust-up between club captain Jamaal Lascelles and midfielder Matt Ritchie, saying it happens because players "want to win".
Reports have suggested the pair clashed over Benitez's tactics for Sunday's Chelsea game, which they lost 2-1.
Newcastle are yet to win this season and were knocked out of the Carabao Cup by Nottingham Forest on Wednesday.
"You want competitive professionals," said Benitez. "It's very positive."
"In all my life as a player and a coach, every year you have two or three situations in the dressing room during a game or during a training session when something happens between players," he added.
"Why? Because they want to win, they care."
Lascelles is set to return from an ankle injury for Saturday's trip to Manchester City, but Ritchie is out with a knee injury.