Aaron Ramsey is Arsenal's Bobby Charlton, says Cardiff boss Neil Warnock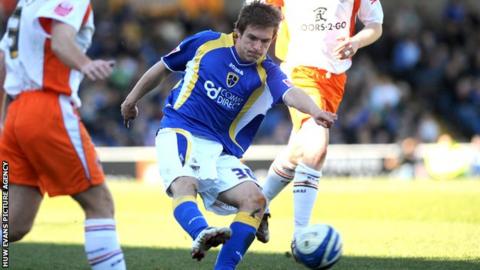 Neil Warnock says Cardiff City old boy Aaron Ramsey is Arsenal's modern version of Sir Bobby Charlton.
Ramsey was sold to Arsenal for £5m in 2008 and the Wales midfielder, 27, returns to Cardiff City Stadium on Sunday in the Premier League.
"The gift of top players is they always have time... Charlton was always a step ahead of everyone," said Warnock of England's World Cup-winner.
"He (Ramsey) always finds time. That is something the top players always get."
Ramsey still holds the record for being Cardiff's youngest player to make his first-team debut, aged 16 years and 124 days, but was instrumental in beating his former club the last time the clubs met in the Premier League in 2013, scoring twice for Arsenal in a 3-0 win.
Caerphilly-born Ramsey received an ovation from all parts of the ground that day and Warnock is looking forward to seeing him perform up close on Sunday - even if it might be to the detriment of Cardiff.
"Every time I watch Wales, every time I watch Arsenal, I just think he does everything. He is a complete player," Warnock said.
"When you look at quality even now in this league and I see a player do something I am like flabbergasted really... I just go 'wow!'
"The gift of top players is they always have time. I remember when I was young thinking Bobby Charlton did not run around much.
"I used to think he did not do much work. Then I realised as I got older he did not do that because he used his brain and he was always on the move... he did not need to run around like everyone else.
"He (Ramsey) is like that."
Ramsey is out of contract with Arsenal next summer and has yet to agree a new deal.
Warnock believes Ramsey will stay with the Gunners, but would be more than happy if Ramsey ever wanted to return to his roots: "I'd love him to be here.
"He could be captain as well - I don't think Mozza (Sean Morrison) would mind. We would get him an apartment - you name it!"
Warnock confirmed that midfielder Arron Gunnarsson, who has yet to play this season, will again be sidelined against Arsenal.
The Iceland midfielder is still recovering from a knee injury and Warnock revealed Gunnarsson will miss his country's opening Nations League games against Switzerland and Belgium.
"He will not go with Iceland, he knows that. He has to get this right," Warnock added.
"He is aware of the situation and told them a couple of weeks ago he would not be going. Even if he had been fit, he would not have gone. The club comes first this year for him, I think."
Cardiff, without winger Nathaniel Mendez-Laing who is sidelined for three months with a knee problem, also have a doubt over Junior Hoilett as they look to score their first Premier League goal this season after a defeat and two draws.