Celtic v Rangers: Steven Gerrard effect on Ibrox club a factor for police
By Scott Mullen
BBC Sport Scotland
Last updated on .From the section Rangers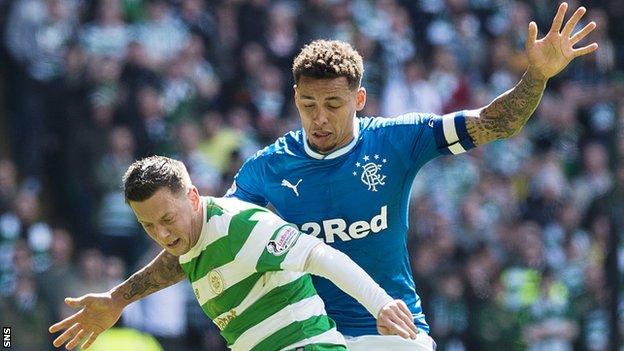 Rangers' resurgence under Steven Gerrard will be considered as part of the policing plan for Sunday's Old Firm match, says a leading officer.
The Ibrox side have qualified for the Europa League group stage and go into the Celtic Park game unbeaten under Gerrard.
Superintendent Simon Jeacocke, the event commander for Police Scotland, says the expected competitiveness of the fixture will have an impact.
"These matches are always great occasions," he told BBC Scotland.
"Obviously, we look at how the teams are playing, what's been happening on and off the pitch so we can learn from these events and apply them to our planning and preparation."
Sunday's Premiership game will be the first time the away allocation will have been reduced.
Both clubs made a decision in May to slash the number of tickets given to opposition supporters at their respective home games, with only 800 Rangers fans attending Celtic Park on Sunday compared to 7,000.
Supt Jeacocke explains that, despite the number being much smaller, policing resource at the game will not be reduced.
"What I have available to me is the opportunity to move those resources where they are required," he said. "If I need them at the match I can have them here, if I need them in the city I can do that.
"There are different challenges for every game, not necessarily harder challenges, just different. We've been working very closely with the clubs and I'm very confident we have a good plan in place."
One measure that has been introduced for this weekend will involve away fans being held back at the stadium for 15 minutes after the final whistle.
"The challenge for us in the stadium is that both Rangers and Celtic fans will be in the same part of the stadium in the south-east corner," added Supt Jeacocke.
"That will allow us to empty the stadium of all the other fans and then we can safely allow the Rangers fans to leave."