Mary Earps: Women's Champions League finalists Wolfsburg's new ex-West Bridgford Colts star
Last updated on .From the section Women's Football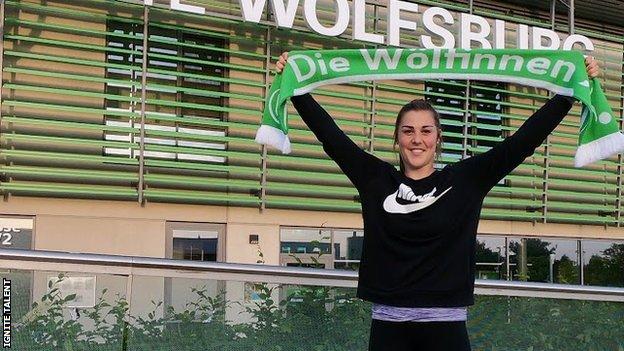 Ever since saving a penalty during her first stint between the posts while taking turns in goal for West Bridgford Colts aged 10, Mary Earps has been yearning for success as a goalkeeper.
This summer, that journey from Nottinghamshire's playing fields has led the 25-year-old to Lower Saxony and the European finalists Wolfsburg, after she joined the German side from Reading.
The England international is hoping to help the Frauen Bundesliga champions go one step further in the Women's Champions League this term, following last season's extra-time loss to Lyon in the final.
The 2018-19 edition of European women's football's premier club competition gets under way on Wednesday, with Earps' new side travelling to Icelandic outfit Thor/KA.
Last season's English double winners Chelsea also begin their campaign on 12 September against Sarajevo in Bosnia & Herzegovina, while Scottish side Glasgow City face Somatio Barcelona of Cyprus.
Manchester City - who, like Chelsea, reached the semi-finals in Europe in April - face a tougher-looking trip to Spanish league champions Atletico Madrid on Thursday.
The reverse fixtures for the two-legged round-of-32 ties begin on 26 September, en route to May's final in Hungary's capital, Budapest.
"Wolfsburg has always been there or thereabouts in the Champions League, winning it twice, and these are the kind of teams that - growing up - you always dream of playing for," Earps told BBC Sport.
"This competition is huge for us. You can tell people are still disappointed about not winning last season's final and this year it's a key target for the team and for me.
"When conversations with Wolfsburg started to develop, it was around the time of that final. I was watching, thinking 'wow, this could be me next year'. I'm really excited for what we can achieve together."
West Bridgford Colts - where it all began
If Wolfsburg can add to their four appearances in the European final this term, Earps' success would be celebrated as strongly in West Bridgford as it would be by Stephan Lerch's side, who have eliminated Chelsea in each of the past three campaigns.
"I started playing football in my back garden with my brother and my dad, as probably most girls did. I watched them and wanted to join in," Earps recalled.
"Then I went down to my brother's training sessions, because there were not a lot of local [female] teams around. I trained with my brother's team and then I got to an age when I had to go to an all-girls team.
"In the first game that I played with West Bridgford Colts, we were rotating keepers and I went in goal for a stint - I saved a penalty and I never came out of goal after that.
"That was it then, from that moment on, I just wanted to be in that position - a goalkeeper."
Nottingham-born Earps would go on to have spells at clubs including Leicester City, Nottingham Forest, Doncaster Rovers Belles and Birmingham City, before her 2014 switch to Bristol Academy.
'I want to try to elevate myself to another level'
Her time with the semi-professional West Country side would see her face German opposition in Frankfurt - where she would continue her habit of saving penalties, despite a heavy loss - after shining in a win over Barcelona earlier in that campaign.
But it was while playing Frankfurt - who would go on to win 2015's European title - that Earps says she firmly realised that she wanted to play in the Bundesliga.
"It was then that I knew I wanted to play in Germany at some point in my career, so when this chance came up, it was such a fantastic opportunity," she added.
"Wolfsburg are the best German team in my eyes and you want to be winning the big trophies. It's so great to work in this environment and be playing with - and against - some of the best players in the world.
"From a goalkeeper's point of view, I'm aware that this doesn't happen often with English players. I hope people will understand it and respect it. Some people won't.
"The style of play in the German league helps, because of the tempo that they play at, how effectively they use the ball and how many chances they create. You can't take your eye off the ball.
"That sort of intensity and pressure can surely only make me better. I want to try to elevate myself to another level."
'You could eat your dinner off this pitch!'
Since agreeing her switch from the Royals - whom Earps helped finish fourth in England's top flight last term - she has quickly become fond of Wolfsburg's AOK Stadion.
The club's women's squad have their own training facilities, as well as a dedicated, 5,200-capacity home ground.
"When I went there to look around, I was a little bit taken aback by the pitch and everything like that," Earps continued. "From a player's point of view, the pitch is immaculate.
"The seats are quite close, which makes the atmosphere intense. The facilities are very, very good.
"Our home pitch in particular took me aback as being a thing of beauty. You could eat your dinner off it!"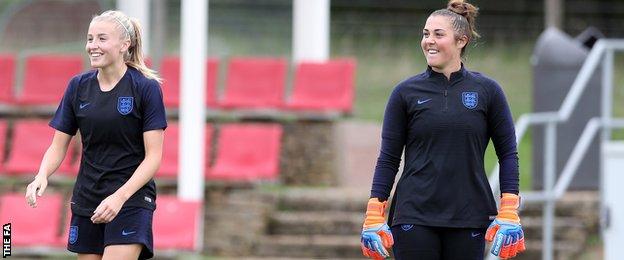 Earps is also hungry for success with England in 2019, after the Lionesses qualified for the Women's World Cup in France with 31 August's 3-0 win over Wales at Rodney Parade in Newport.
But after making her senior international debut in 2017, can progression with Wolfsburg help her earn the number one spot for Phil Neville's side?
"I'd like to think so. I have a lot of hard work to do and I will need to train well and play well," Earps said.
"I'll do everything I can to get game-time for England and secure that jersey. Being number one at a World Cup is a childhood dream.
"Phil is in regular contact, making sure I'm settling in ok, and the opportunity for regular feedback is great.
"If you want to be your best to have to push yourself beyond your limits. This career is short. There are no guarantees. I want to be able to look back and say 'I gave it a good go'.
"Moving to somewhere like here is not for everyone, but I felt really strongly that this is something I wanted to do."