Martin Braithwaite: Middlesbrough striker wants to leave club for Spain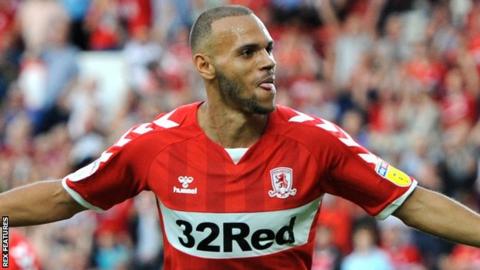 Middlesbrough and Denmark forward Martin Braithwaite has asked to leave the Championship club.
The 27-year-old, who played in all four of his country's games at the 2018 World Cup, is understood to want to move to a team in Spain.
Braithwaite joined Boro in July 2017 from Toulouse on a four-year deal.
"I get very, very disappointed that people come here, spend a short time and are looking to get off again," manager Tony Pulis told BBC Tees.
"That's what really disappoints me when they've signed long-term contracts."
Boro have not disclosed which Spanish club Braithwaite wants to join, although a deal will have to be done by Friday when the European transfer window shuts.
Braithwaite has been in excellent form this campaign having scored in three of his first five Championship games.
He found the net six times in 21 matches last season before leaving for French side Bordeaux on loan in January.
"It has to be right for the football club. If it's not right for the football club he'll have to get his head down and work hard for us," Pulis added.
"But it doesn't help 48 hours before a big game when one of your better players, and he has been one of our better players so far, is actually thinking of going somewhere else.
"Martin's not a bad lad, he's been very good around the place, he works hard, he's diligent, but I want players that want to play for the football club."
Meanwhile Pulis would not be drawn a potential loan deal for Millwall midfielder George Saville.
"I've got great respect for Saville and great respect for Millwall and until that deal's done I don't really want to discuss it."