Yaya Toure's agent keeps fans guessing with midfielder's next move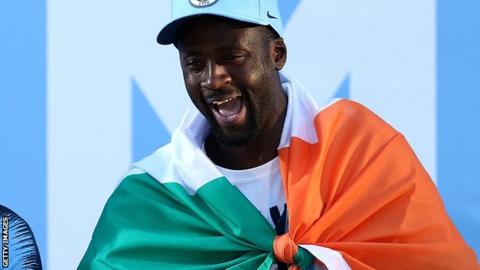 In the past, football agents typically shunned the spotlight, preferring to negotiate multi-million pound contracts behind the scenes.
Yaya Toure's agent of over 17 years, Dimitry Seluk, is the exception and has been described as "eccentric", "extravagant" and "colourful".
Since the 35-year-old's exit from Manchester City at the end of last season, he has been stirring the rumour mill, culminating in a series of teaser tweets on Tuesday.
First, Seluk teased fans living within touching distance of the M25, saying Toure had "passed a medical in London".
This sparked all sorts of conspiracy theories and fans started reading into his words and emojis like never before...
"If a footballer has a medical in London, do they have to sign for a club in the same city?"
"Is Watford technically in London?!"
Twitter suddenly looked like transfer deadline day, with people declaring they've been told it's a done deal. Everyone had "the scoop"...
But Seluk decided to rule out a few potential destinations, trolling a couple of clubs along the way...
Ouch.
He continued to fire metaphorical shots, this time at Crystal Palace - specifically their current boss Roy Hodgson and his comments after Manchester City's owners failed to wish Toure happy birthday during the end-of-season trip to Abu Dhabi in 2014.
Hodgson, the then England manager, said he didn't know when any of his players' birthdays were and "didn't think it had anything to do with being a professional footballer".
He then reposted a mocked-up image of Toure wearing the home shirt of every London-based club in the Premier League, with the exception of the Hammers and Palace.
So, Arsenal? Chelsea? Tottenham? Fulham? Watford? Or somewhere else?
Do you know where Yaya Toure's going? Or is this just a massive game of hide and seek?
Either way, let's play along!
HAVE YOU SEEN YAYA TOURE?
Let us know using #bbcfootball