Hampden v Murrayfield: Scottish FA opts to keep games in Glasgow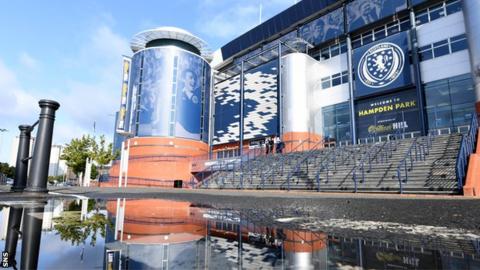 The Scottish FA will be staying at Hampden after agreeing to buy the national stadium from Queen's Park.
A deal has been struck to pay the League Two club £5m for the Glasgow ground.
The SFA was contemplating moving to Murrayfield, the home of Scottish Rugby, once its Hampden lease expires in 2020.
But instead it will now take ownership of the ground in two years' time.
Half of the money to complete the cash takeover was pledged by Scottish businessman Lord Willie Haughey, with Queen's Park set to move their matches to Lesser Hampden.
The Glasgow side will receive £5m for the deal, with the SFA taking over £19m of liabilities, dating back to when the stadium was redeveloped, that will only be payable if matches are no longer played at Hampden.
SFA chief executive Ian Maxwell has promised that the body will now look at improving the stadium, which has been criticised by supporters during the process.
"Our mission is to inspire a nation to love the game and having a home that we can call our own is an important part of that," he said.
"While we are now committed to Hampden Park we also recognise that it needs to change. We have heard the fans' views throughout the process and agree with them that we need to improve access, transport links and the overall experience. We are committed to doing that.
"With that in mind, we need all of Scotland to pull together to make it Scotland's national stadium. We have heard many voice their support for the stadium. We need collective action, driven by the Scottish FA, to ensure it remains the beating heart of Scottish football."
'Once-in-a-generation opportunity' missed
The SFA commissioned a feasibility study to assess all the options and rejected a proposal in January from Celtic and Rangers to share hosting of internationals and domestic cup matches.
But various hurdles, including the cost of such a deal, ensured it was not a foregone conclusion.
The board met for several hours on 29 August but were unable to come to a conclusion and asked both bidders to provide more information before making a final decision.
Scottish Rugby's Chief Operating Officer Dominic McKay said: "Scottish Rugby would like to thank the Scottish FA for the opportunity to bid to host future Scotland internationals and cup final matches at BT Murrayfield.
"We are naturally disappointed this once-in-a-generation opportunity to develop a partnership for a true national stadium for Scotland at BT Murrayfield, which would have enabled the country's two largest sports to work side by side for the wider benefit of Scottish sport and society, has not been taken."
A Queen's Park statement added: "Queen's Park welcomes the Scottish FA's announcement today, whilst acknowledging there are still many complexities to be worked out with various stakeholders.
"This will undoubtedly have huge implications for our club and our first priority is to engage with the club membership which due to confidentiality clauses we have been unable to do thus far."
What are the benefits of staying at Hampden?
The stadium in Glasgow's south side has been hosting Scotland's matches for 112 years, as well as the majority of Scottish League Cup and Scottish Cup finals - and latterly semi-finals too - since 1903.
It is regarded by many, including a majority of former players and managers, as the "spiritual home" of Scottish football.
But that emotional attachment is partially offset by complaints from fans about poor infrastructure and transport links, and a distance between the stands and the action when seated behind the goals.
However, Darryl Broadfoot, a former Scottish FA communications director, said "there is a mythology over Hampden's transport problems".
"There are actually three train stations in the vicinity," he told BBC Scotland. "The problem is enough trains going there, which is a conversation - or a demand - that has to be placed on the rail provider."
Hampden's current capacity is just under 52,000, but it is rarely full for Scotland games and some domestic cup semi-finals.
Some have suggested reducing the capacity to about 35,000 and bringing the two stands behind the goals closer to the pitch.